We love Martha's Vineyard. We're passionate about it. We're passionate about the people and sense of place that makes the Vineyard so magical. It's our goal to do everything we can to help keep this island such a special place.
Even though Martha's Vineyard is a very affluent second home destination, many of the year-round families who form the backbone of our community, and provide most of the services our summer renters and second homeowners depend on, many of these families are struggling to make it on the Vineyard.
We volunteer, support, and fundraise for efforts that proactively focus on families, food, housing, the environment, and sustainability.
Our largest fundraising effort is the Martha's Vineyard Teddy Bear Suite. This magical holiday tradition, where family memories are made, in its first eight years, has raised $171,000 for the Martha's Vineyard Boys and Girls Club, and its vital after school food program. The Healthy Happy Kids program has made a substantial impact on childhood hunger and food insecurity on the Vineyard. Each week, the program now serves more than a third of all island kindergarten thru eighth grade children. Our annual fundraiser now covers the majority of the cost of H2K.
Every summer, we help thousands of people find the perfect rental home on Martha's Vineyard. Inevitably, when they're packing up to leave, many vacation renters have left over food that they don't want to have to drag back home. Our idea was simple. Instead of throwing out all that non-perishable food, drop it off at our real estate store when you check-out. We collect it, then on their behalf, donate the food to the nonprofit The Island Food Pantry. The IFP serves nearly 500 families, which is more than 1,000 Islanders, including 200 children. A simple action that's helping make a difference.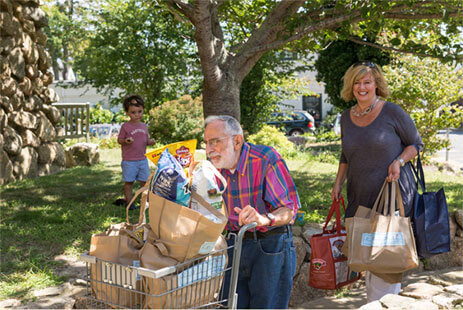 Martha's Vineyard real estate is expensive. Lack of affordable housing has led to a real housing crisis for many island families. While there is no easy answer to solving this problem, we've been impressed with what the Island Housing Trust is doing to make a difference for owning and renting. We are active supporters and donors in their drive to help ease the housing crisis.
Martha's Vineyard has a rich farm and agriculture history. And while there are now several dozen active farms on the Vineyard that are helping feed the popular farm-to-table, local food movement here, only one has created a unique, farm-based, hands-on education experience.
The Farm Institute
sits on 162 acres of pastureland in Katama, near South Beach. It is now part of The Trustees of Reservations, which is the largest conservation and land preservation group in Massachusetts. Thousands of kids have gone to the ever popular summer camp, but there are cool events and activities year round for locals and visitors alike. We are active supporters and donors for this vital - and fun - island resource.
This large community-based organization provides vital family support and services across the island. Their multiple prong outreach programs include: early childhood and youth; a multi-faceted counseling center; protection and counseling for domestic and sexual violence victims and survivors; disability services that provide employment and support; and The Thrift Shop, which helps recycle clothes and household items back into the community, while also raising money for the
MVCS
. Running Community Services costs a lot more than that, and we are active supporters and donors to this vital organization. Every year, we also lend a large number of our teddy bears from the
Teddy Bear Suite
to Community Services for some of their childhood programs.
The beaches of Martha's Vineyard are one of our greatest treasures. They ring the island and range from sandy soft to rocky. Every year on Earth Day, we form the largest clean up team that joins the annual Vineyard Conservation Society beach clean up. We're proud to do our part to revitalize and replenish this great natural resource that is such a key part of life on the Vineyard.