On many of these cold days, folks can use a little cheering up, and a lunch date can do just that. Slice of Life in Oak Bluffs has great lunch options, and is open for lunch Tuesday thru Saturdays.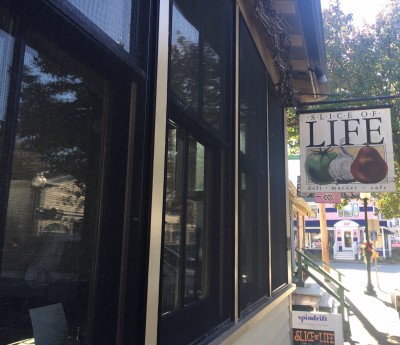 During the off-season, Slice offers a $10 lunch special. On this specialty menu, you'll find a couple options. Not only do you get a sandwich but also a drink (coffee, teas, soft drink and waters) all for $10.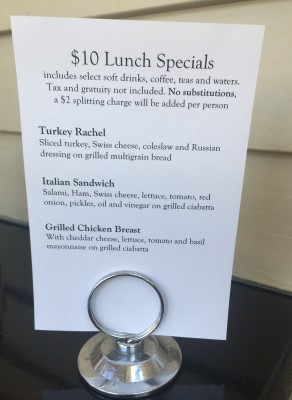 On the day I went, there were three delicious sounding options. Luckily, I knew someone who opted for the chicken sandwich, and was able to snap a picture. The chicken sandwich was served on ciabatta, with lettuce, tomato, cheddar and housemade basil mayo. Thankfully friends are OK with me coming and taking pictures of their food for the blog!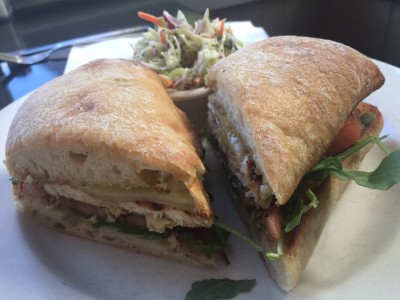 Though all the lunch specials sounded good, I am a sucker for Slice's Portobello Sandwich. This is one of my favorite sandwiches on the Island. I must admit that I often eat the whole thing and then have to skip dinner.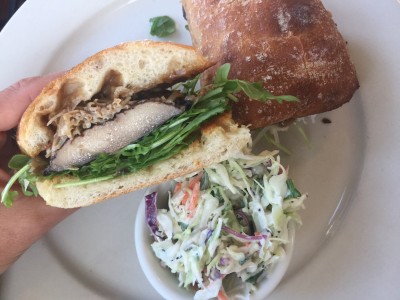 A grilled portobello cap with shaved parm, balsamic vinaigrette, and arugula – a delicious combination. The earthiness of the portobello with the sweetness of the balsamic and the fresh parm cheese are so good.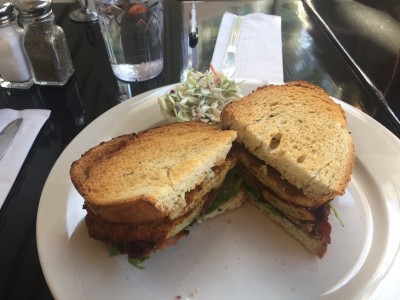 And, let's not forget about the Fried Green Tomato sandwich on the menu too, which Slice is well known for.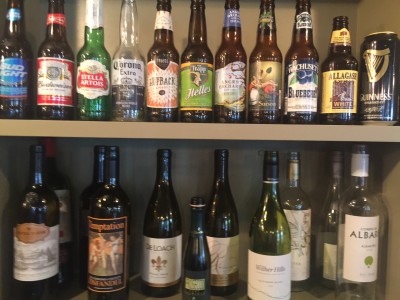 Slice is also open for dinner. Like lunch, you can find some great dining options and Frugal Foodie options. Tuesday thru Thursday, you'll find 30% off all dinner Entrees (including entree specials), and on Friday and Saturday there is a 3 course prix fixe, (app, entree & dessert) for $35 a person. Don't forget that beer and wine are available.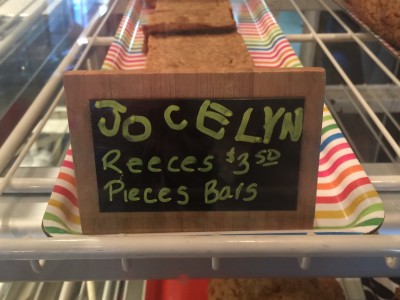 Whether it's lunch or dinner you're looking for, Slice of Life is a delicious option. Don't forget to save room for dessert, like Jocelyn's Reese's Pieces Bars (Jocelyn is the owner's 6 year old daughter who loves these bars). Owners Jennifer and Peter Smyth offer Islanders a year-round delicious dining option — a light at the end of Circuit Avenue.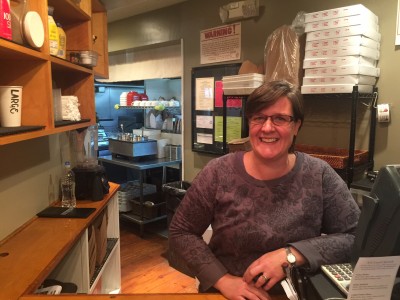 You can learn more about Slice of Life on Facebook. Don't forget to "Like" us on Facebook, and follow us on Twitter, Linked In, Google+, Pinterest and Youtube and Instagram.