**UPDATE – sadly Leslie has moved off Island and is no longer offering FETE MV**
Recently a friend of mine was taking to me about Fete MV. I had not heard of it before, and that's because this amazing new Island business is new to the food scene. What you may ask? Doesn't Fete mean party in French? It sure does, and if you know founder and food maker, Leslie Myers, then you know the name is quite fitting.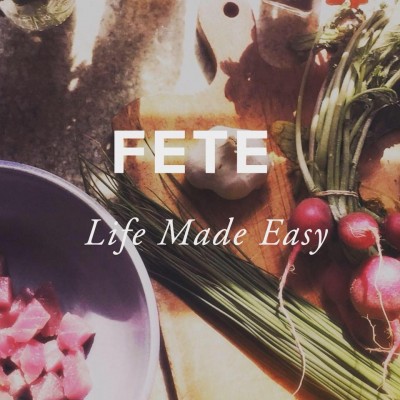 But before we talk about Leslie, let's talk about Fete MV. Fete MV is a food delivery service. This is not like delivery from other Island restaurants. This is fresh food, delicious food, made with local ingredients for any menu style.
Why is this awesome? What if you're on Paleo? Whole 30? If you're true to that plan, it's not like you can walk into a pizza place and get a whole beautiful meal for yourself or your family. However, with Fete MV you can. Leslie is well versed in a number of specialized diet, and yes that includes vegan and gluten free.
However, if you're like me and just eat everything, Fete MV is for you too. It's for the people who can't afford a personal chef, but want to know about and care about what they are eating. It's for the person or family who knows that Wednesdays of every week are going to be impossible for dinner.
Leslie is the solution. Doesn't that sound dreamy? For about $25 – $30/ person, you can have amazing food brought to your door. And I can't forget this, you determine the time of day you want your meal (s).
Let me break it down for you. Tuesdays I don't get home until after 6:00 p.m. because my son has biddy ball which is in Edgartown from 5:00 p.m. to 6:00 p.m., and I live in Oak Bluffs. This is a great day for me not to stress about dinner.
So, I went to Fete MV's website. Being that it's off-season, she's offering two standard dishes for you to choose from. For me, it was easy. I chose the SAUSAGE & SAGE SHEPHERD'S PIE with root veggies and a winter greens salad with homemade honey balsamic. Shepard's Pie is something the whole family could eat, depending on my kid's moods that night.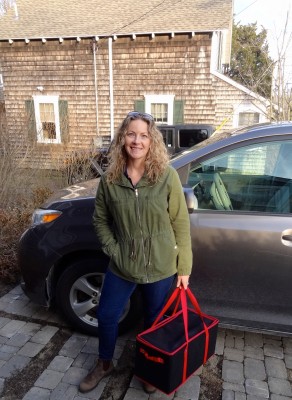 I emailed Fete MV at FeteMV@gmail.com and ordered the Shepard's Pie for Tuesday with a 4:30 p.m. delivery. That way, when I came home, I could just reheat it a bit or enjoy it warm (put it in the oven). You can pay on the website or cash or check is fine too at delivery, it's what works for you.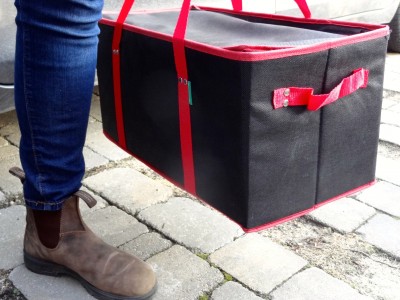 Literally at 4:30 p.m., Leslie pulls into my driveway. She's there with a smile and an insulted red bag, holding my goodies. At this point, how the experience proceeds is up to you. Since I needed to talk to her a bit and grab some pictures, I invited her in.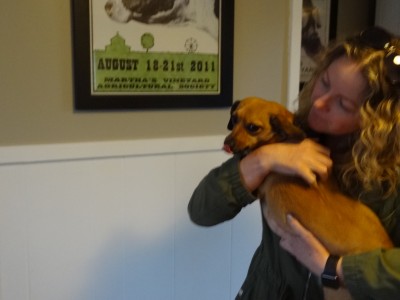 However, you don't need to do that if that's not your thing. Leslie is not only stunning, but she is so kind and easy to talk to her. My son loved her and even my dog Dashi could not get enough. We chatted for a couple of minutes, and then that was it. It was so easy.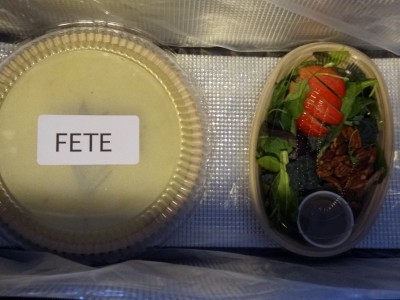 This food was delivered in appropriate containers, which are recyclable when possible, and minimal waste. Not like when you do Blue Apron, or such, when you are throwing away so much. It's painful for some like myself. I felt better about this for sure, and I didn't even have to put it together. I had to email to have it come to my house.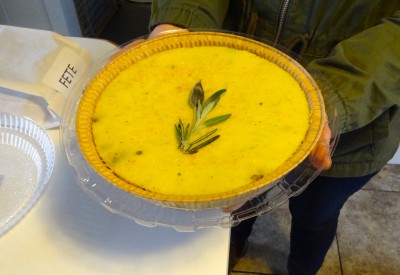 How was it? It was simple and delicious. The mashed potatoes for the top were cooked perfectly and the pie was seasoned well. What is usually somewhat a heavy dish to me, this one was light, savory and really easy to eat. I think my husband had thirds, and my son had seconds. The sausage was much more flavorful to me then the ground lamb that is traditionally used.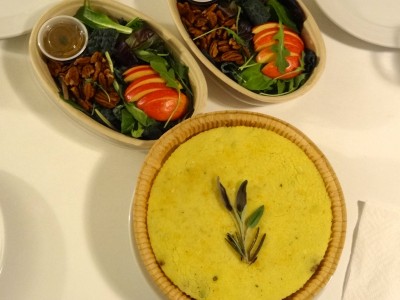 Leslie is masterful with her flavor combinations and knows how to make something delicious. Having a side salad accompany the Shepard's Pie was a nice touch. I like the sweetness of the dressing with the mixed greens she used. Since they were winter greens, there was some kale in it which can be a little more bitter than other greens.
Fete MV can do dinner, soup to nuts, appetizer, dinner and dessert or simple for a Tuesday like I ordered. The customer's food needs are the priority.
With Fete MV, I like that you know who is making the food. It is made on the Island, and it can be as custom or as standard as you like. It can be just for you, for your family, or a carefully curated dinner party that you DON'T want to cook for but where you still want to impress and have fresh, beautiful food.
You feel like you have the luxury of a personal chef without the price tag, and you are able to feel good about what you're eating for dinner. Let's not forget that it comes to you on your timeline. So stress free.
Leslie Myers lives in Vineyard Haven, is a mother of three, and is busy doing what she loves, making people happy with the food she makes. She introduced Fete MV to friends and to members at Cross Fit MV during the holidays.
An immediate success, she now delivers bi-weekly to Cross Fit, a Monday and Wednesday delivery which you can get in on if you like.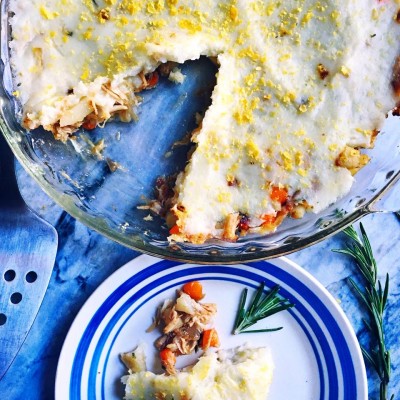 The food is inspired by classic dishes, but with a twist like the sausage in the Shepard's Pie or her pulled pork Shepard's Pie – yum. One of her signature dishes that people cannot get enough are her short ribs. People go crazy over these.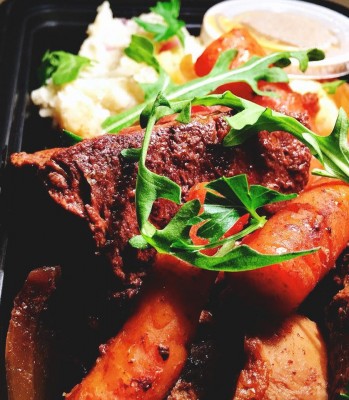 Leslie has been able to do a number of things she loves, like working at State Road, personal assistant, and something she really loved – doing events. She loves doing events. Last year, she helped with a friend's wedding, and the joy of that came flooding back. She loves parties, hence the name Fete MV. This has been a dream of hers that is 10 years in the making.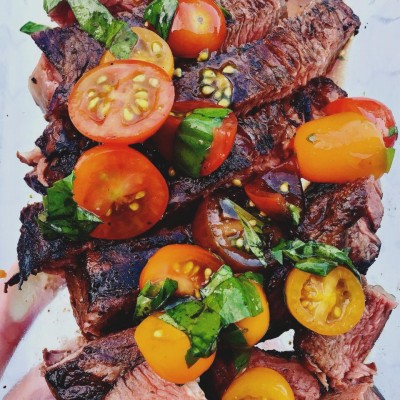 Cheers or should I say "à votre santé" Leslie for creating Fete MV for the Island.
I am looking forward to checking in with Fete MV in the Summer. I love this concept for nights at the beach and when you have a revolving door of guests. When cooking is the last thing on your mind, let alone going to the grocery store, Fete MV is going to be a good resource to have.
You can learn more about Fete MV on Facebook. Don't forget to "Like" us on Facebook, and follow us on Twitter, Linked In, Google+, Pinterest and Youtube and Instagram.