How much do I love cheese! How much do I love beer! Put together two incredible, special Island made ones, Grey Barn cheese and Offshore Ale beer, and you've got a spectacular pair. Put away those thoughts of wine and cheese, this event shows just how good beer and cheese can be together.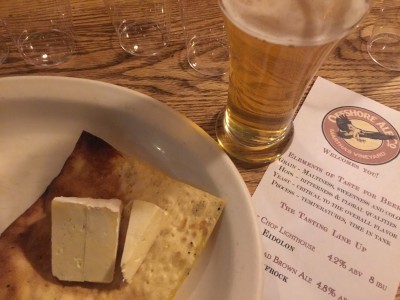 Joe Alstat, The Grey Barn's cheese maker for the past four years, has been dreaming of this pairing for quite a while. Joe loves Offshore Ale's beer. He comes in often for a pint or two and is definitely a favorite at the bar.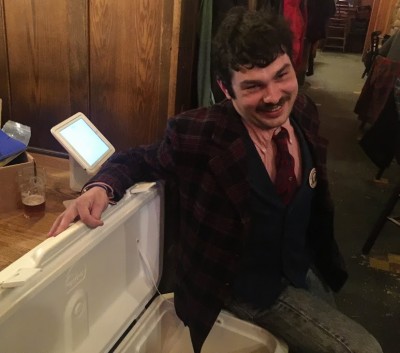 He is very passionate about the cheese he makes, and he is incredibly knowledgeable about all things cheese. He's been making cheese since he was 19, he's now 28, and boy are his cheeses delicious.
The cheese and beer tasting event featured six cheeses, each paired with their perfect Offshore Ale beer. These pairings were not chosen lightly. There was a meeting of the minds for this. Both Grey Barn  and Offshore folks met to go over the beers with the cheeses. Some choices were easy for the pairing, some a little more challenging.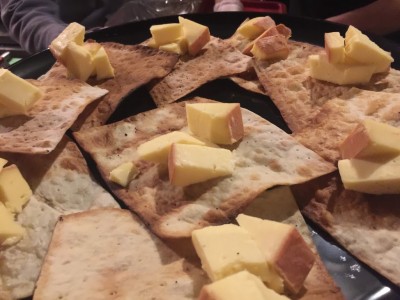 One of the hardest things was that Offshore's flagship Lazy Frog IPA, which so many people favor, did not work with any of the cheeses, nor did other hoppy ales — they do not enhance the cheeses at all. Luckily, there were plenty of other options.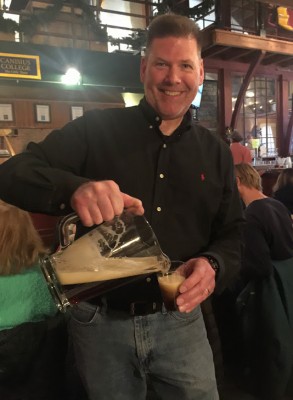 The event was sold out, and Joe was there from Grey Barn, owner Phil McAndrews from Offshore, along with brewer Neil Atkins.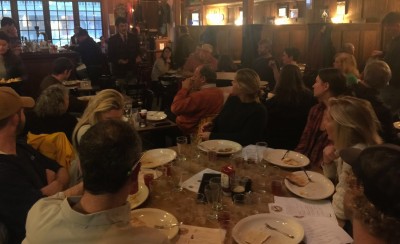 There was a logic to the whole set-up. We were going light to more robust for cheese and beer. There were three taste experiences with each course. Step one, sip the beer. Really pay attention to the elements, like the maltiness and the floral qualities of the beer. This is the first taste experience.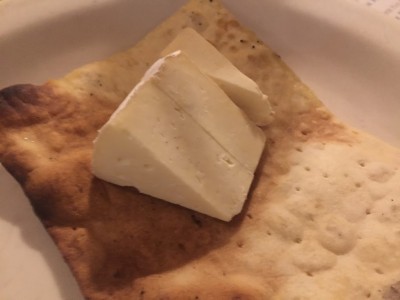 Then you try the cheese, note the rich smell, the texture, it's appearance. This is the second experience. Then the beer and cheese flavors come together for the third experience.
Joe introduced each cheese, sharing all sorts of cheese maker information. This was great for those in the crowd whose interest ran deep. For me, I wanted to learn more about the individual Grey Barn Cheeses, and how to pair them with some of my favorite beer.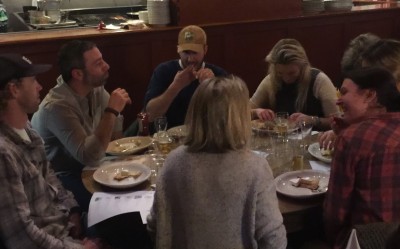 I learned a lot about the cheeses offered. The different types of the same cheese, like the Prufrock vs. the Large Format Prufrock, meaning young vs. more aged. It was also incredible to see how the aging process really can change the flavor of the cheese. I should mention that the Prufrock is Joe's "baby" as he calls it.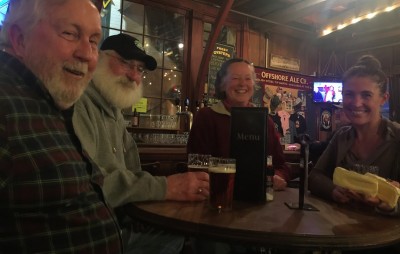 Staying with Prufrock, I loved the younger cheese. It was creamy and smooth and stinky. It was paired with Beach Road Brown. The chocolate notes of malt used in this beer was so lovely with the creamy Prufrock. I felt like I could consume these two things together every day.
Then came the aged, Large Format Prufrock which had a sharpness to it. It was still good, but the flavor was not there for me. Though I did like it with the Miss Behavin' which is a malty beer with a little sweetness and spice.
Another pairing that stole the show for me was the Blue Lobster, a malty Belgian strong ale, that was paired with Grey Barn's Blue Blue Bird. This green/blue cheese is velvety, has notes of the smell of blue cheese, and a bit of a salty note. The Blue Lobster is a bit on the sweeter side, and it really complemented the salty, rustic flavor of the Bluebird.
In addition to these cheeses, The Grey Barn also featured Eidolon, paired with East Chop, Offshore's golden ale. This cheese has a beautiful orange hue rind and a smooth, creamy texture. Lighter and more natural tasting then brie. This is an easy cheese to enjoy.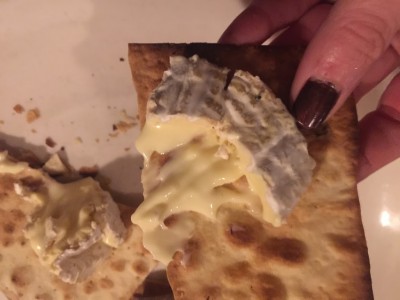 Its big brother, Large Format Eidolon was there as well, paired with Menemsha Creek Pale Ale. This was not a favorite for me. It was almost too creamy for me, and the pale ale is not the beer for me. However, my table mates love this cheese, and were happy to learn that Joe had brought a select group of cheese to sell to guests. Whoot whoot you can bet your bum that I got some young Prufrock.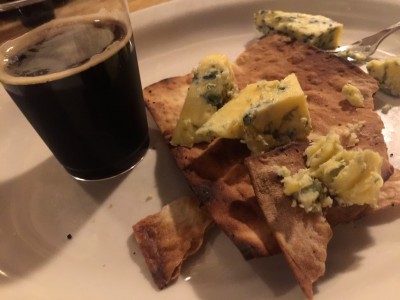 Bluebird Reserve was the grand finale, was Phil's favorite pairing. Aged Bluebird with Offshore's Steeprock Stout. This cheese was the most dramatic, the most robust. It was a good pairing but I think you know which ones were my showstoppers.
Not only did guests get to learn about great cheeses and beers, but we got to do it together as a group. It was very interactive, and both Joe and Phil were open to answering questions and sharing their knowledge with us.
It was a great winter community builder. Perfect for a great rainy afternoon where there was not a lot of Island happenings. This made you want to leave the house! I feel a lot more knowledge about what to pair Island cheeses with for guests this summer!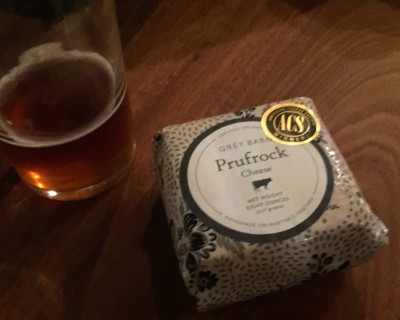 Author's Note: Did you know that The Grey Barn cheeses are named after poems and that they currently only use cow's milk for their cheese? Also, The Grey Barn's cheeses are available at their Chilmark farm stand throughout the year.
If you missed this event, I am trying to get Phil to do another one. This was so much fun, more people need to have a chance to go.
You can learn more about The Grey Barn and Offshore Ale on Facebook. Don't forget to "Like" us on Facebook, and follow us on Twitter, Linked In, Google+, Pinterest and Youtube and Instagram.