When you meet Anne Zenker, you are immediately captivated by her energy. She is vibrant, funny, and passionate. Retiring from her job as a personal trainer (I bet she's amazing) and a high school lacrosse coach in Summer of 2016, and now living on the Vineyard full time, Anne knew that she wanted to write a new chapter in her life. Anne has a lot of energy and likes to be busy.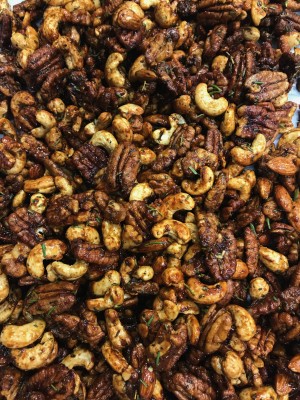 For years now, she has been making her signature nuts for friends and family for holidays and special occasions. Everyone always told her how good they were, that she needed to sell them. Like any food purveyor considering a new venture, she wondered if they were just being nice or if the nuts were that good.
She brought some to Steve Bernier at Cronig's last year to see if he would sell them. What a great litmus test for the nuts. Steve was immediately smitten. He asked what they were called, saying they should be called "Crazy Good Nuts" because they were crazy good. A hug later, and soon Anne's nuts could be found on shelves at Cronig's Markets (where they do sell out).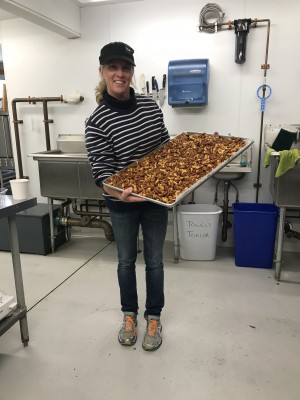 Anne decided on a name, Martha's Vineyard Nuts. They are roasted on Island, in the commercial kitchen at The Larder, and seasoned there as well. Anne looks like a natural in her new habitat, where she is making the very recipe that has delighted those close to her for years. Soon you'll be able to find Martha's Vineyard Nuts in specialty shops around the Vineyard, like Katama General store, Rosewater, Soigné, the Chappy General Store, of course Cronig's and other places.
What makes Martha's Vineyard Nuts so good? Why it's Anne's recipe of course. At first bite, they are sweet, then savory, and then give a little heat. Anne uses the highest quality nuts — pecans, almonds cashews, and walnuts, and all the ingredients are good for you. There's fresh rosemary, real Vermont maple syrup, brown sugar, chipotle spice fresh orange juice and orange zest. The nuts are coated but they don't feel heavy or masked by the blend. They're just plain good and you feel good eating them.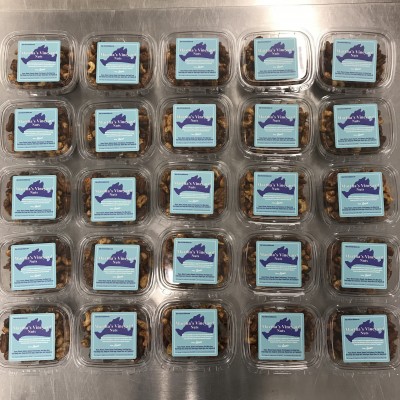 The flavor profile really is quite unique. These are nuts that are a special treat, a gift for yourself or to share as others. These are perfect for cocktail parties, to bring to the beach, to picnics, to add to welcome baskets, to serve on charcuterie boards. You name it, just add these nuts. Caution, you might just become nuts for these Martha's Vineyard Nuts.
The nuts are currently sold in 8 oz containers and cost $11.50. Nuts can be costly, and these are reasonably priced for what you're getting — small batch, craft nuts. As Summer approaches, there will be other size options too. How fun to grab a 3 oz package for just yourself to snack on when on the go. Such a better option than chips or crackers. Speaking of nutrition, there will soon be a nutritional label on the package.
Anne has been really thorough in her research. Finding the best nuts, package sizing, taking the effort to create a nutrition label, all of which are going to help her business grow. Also, since she is selling them wholesale, that too has been a learning process. An added fun fact, is that Anne's daughter Izzy is helping her with the business, especially with the social media aspect. It's brought them even closer.
This story is a great example of how you can turn something you love to do or love to make into something more, and Martha's Vineyard is the perfect place to do it!
Anne we can't wait to see what adventure this business takes you on!
Author's Note: Anne's family has owned their house in Edgartown for almost 50 years, and before moving to the Island full time, she spent Summers here with her family. Her brother even has a home right next store. She loves call the Vineyard home and sharing it with friends and family.
You can learn more about Martha's Vineyard Nuts on Instgram and don't forget to "Like" us on Facebook, and follow us on Twitter, Linked In, Google+, Pinterest and Youtube and Instagram.