I am relatively new to the kombucha scene, but know that it has been gaining popularity. I admit that I like to have a bottle or two a week, and love getting the Island made komucha when I find it in  stores or at the Chilmark Fles Market.
Why is kombucha becoming so popular? Well, first it's pretty tasty (though not everyone would agree). It's got great bubbles, it's not too sweet, and it seems fermented tea is good for you. There are a number of reputed healthy benefits from this kinda wonder drink. It can serve as a kidney and lever detox, help with digestive health, strengthens the immune system, can help to improve joint pain and more.
I am no kombucha expert. I got all the info I am sharing with you from Nina Gordon. She has become the Island expert regarding the drink. How does kombucha do so much for your body? Well, raw kombucha like Kulture Club contains "beneficial acids, anit-oxidants, B vitamins, soluble fiber and live probiotics"!
When I saw that Nina was hosting an informational session at the Chilmark Library, I thought that it would be a good idea to learn more about kombucha. It's always nice to know about what you're putting in your body, especially when it has the potential to be helpful, like kombucha.
So, I put out the invitation to the event to some friends, and got a couple of yeses. I was very happy to see others interested as well. Speaking of others, Nina drew a packed house. Luckily we had gotten to the library early enough to get some good seats.
Not knowing much about the kombucha process, I was really intrigued. Nina did an amazing job at explaining it all — the steps to making kombucha, the ingredients, where to get them, and she was even offering people a SCOBY to take home to use to make their own kombucha.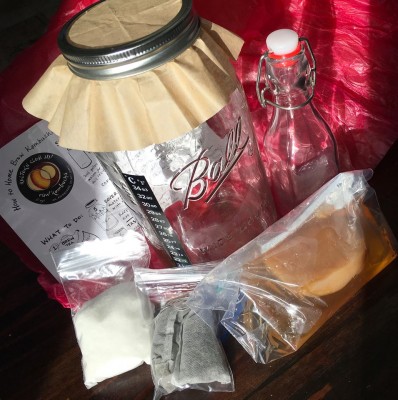 The scoby, the live Symbiotic Culture of Bacteria and Yeast, is the base of all kombucha. This is a living thing, and this yeast is hungry, hungry for sugars. Though seemingly simple, the process of kombucha is definitely a bit of alchemy. I am going to share a very simple version of the process, what I learned. I know I would need to research further for exact amounts, but I feel like with maybe a little help from Nina, I could do it.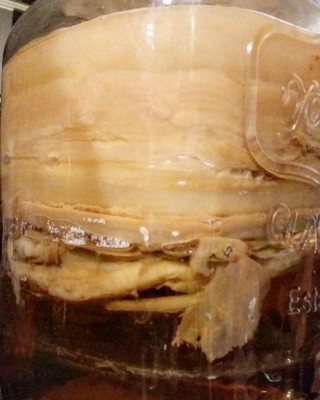 First, you'd need to decide on the size of the batch you want to create. Then in addition to the scoby, which is sometimes called the mother, you need to gather a tea or combination of teas, to create the food source for the SCOBY. Nina has a tea combination she has perfected. The tea needs to be TRUE tea, like black tea, green tea, or oolong. Using tea you like is a good idea to create a flavor that would work for your. You have to boil the tea, let it sit and cool to 80 degrees or less, add more water, some sugar and then the of SCOBY.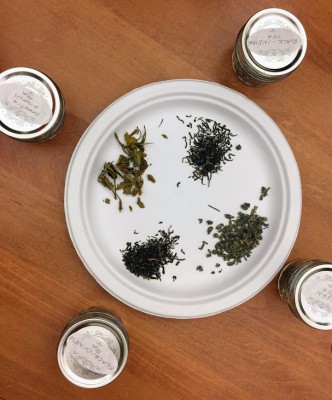 After this, the concoction needs to breathe. Something like a coffee filter over the top of the container is a good idea, keeps bugs out and prevents mold from forming. In about four to five days, there will be a "daughter" on the top formed from the anaerobic environment. At this point, it's a good time to taste it. There should be just a touch of sweetness left. Remember the scoby has been busy growing and using the sugars from the tea.
After this point, it's time for the second fermentation to happen if you so choose, or you can keep it plain. The longer it sits, the more like vinegar it will taste. For plain, pour kombucha off the top of the jar for consuming but keep the SCOBY and enough liquid from the bottom of the jar to use as starter tea for the next batch.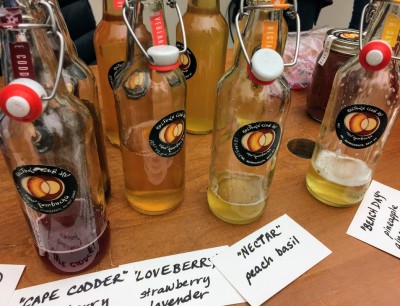 You will need to place the kombucha in different container – one with an air tight light to get the fizz, bubbles really working. Bottles like Grolsh beer are great for this because the tops can handle the pressure or those growlers from craft breweries are a great option and are a good size. The bottles and the tops are made to handle pressure.
You can add fruit at this point. Fresh fruit is preferred and lends itself to better flavors. Let it sit for a couple more days, strain it. You can have fun here and play with flavors. Nina has created and continues to create flavors with her kombucha. Her favorite to date is Nectar Peach Basil which is made from peaches and basil from her own garden. I should mention you can use herbs too.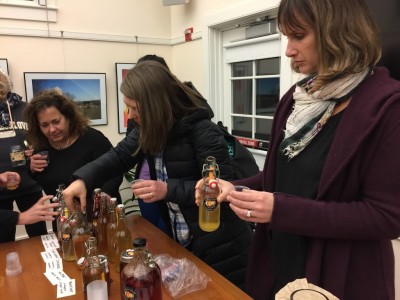 Nina had a bunch for us to sample, including her favorite which was good. Surprisingly, many of us liked the habanero, which had a little kick to it. The Loveberry was good too – strawberry and lavender.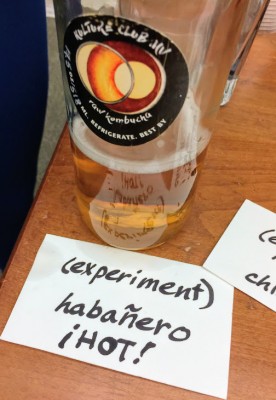 Now if you want to make your own kombucha, I would definitely do some research online. There are a lot sites that can answer questions. I know that I will be doing that if I attempt my own batch. Also, there are kombucha starter kits you can buy. I just love that kombucha has been demystified. It's fermented tea with good stuff in it. And, you can make your own!
Nina has been working with the drink for four years. Her first experience with kombucha, bought from a store, was not pleasant. She refused to try it again for a long time. However, about six years ago her friend, Jesse Miller, stayed at her house for a while, before moving to Brazil. He had just started brewing kombucha.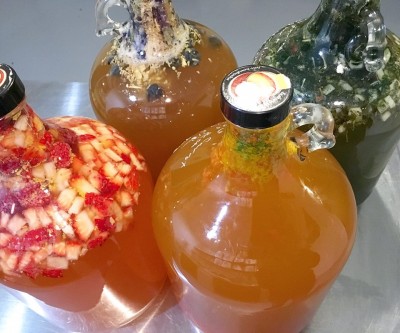 She watched his scoby bubble and grow on her kitchen counter. Watching the process, she was even less interested. Trust me, after seeing Nina's I can tell you that the SCOBY is not a pretty sight. Her friend persuaded her to taste it again. Nina found that his was delicious and completely different from her first experience. Her friend has since started a kombucha company in Rio de Janeiro.
Then shortly after he left, her friend Althea Lowell moved back to Martha's Vineyard from Vermont. She had been experimenting with brewing kombucha. One winter afternoon (the magic that happens on the Island this time of year) after coffee in Althea's kitchen, she asked her if she wanted a scoby. Nina thought why not? There's not much else going around this year. It's winter and she welcomed a new project. Nina hasn't stopped brewing since.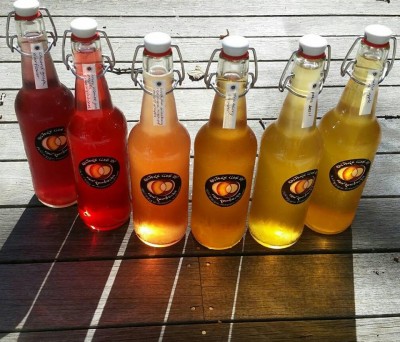 It's been over four years, and Nina could not be more happy about this project turned career! She is currently working on creating a lot of kombucha for the 2018 Spring and Summer season. Her goods are in high demand. She's also working on getting her wholesale license for it. Be on the lookout for Kulture Club!
Brewing kombucha is fun for Nina. She considers herself a master of delayed gratification. She likes the things she creates that evolve slowly. Also, Nina is an artist and a nurse.
In her words, She has always been "interested in observing and shaping natural beauty and promoting wellness. The whole process of brewing and drinking kombucha is fascinating and beautiful. From the colors changing and scoby growing and bubbling, to mixing flavors like colors on my palette, the invisible positive changes that the probiotics and other nutrients in kombucha make on our bodies and minds, especially when I can use ingredients that are local and have grown organically or foraged myself. Much like when I paint, it is a good reminder of the beauty and sanctity of life, our lovely island, and the connections between each other and our environment."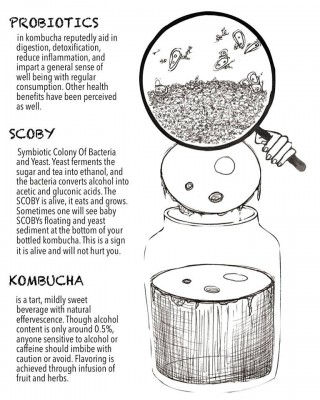 Lucky for us, she is happy to share her knowledge with us! Thank you Nina for making great kombucha and for helping me have a better understanding of what it is! You can find Kulture Club Kombucha at The Larder and the Chilmark Flea Market, but I bet you'll see it at more places soon.
Author's Note – Definitely read up on making kombucha. It's a seemingly easy process but there is some precision to it. Good luck and have fun. I seriously think I might try making on this Spring.
You can learn more about Kulture Kombucha Martha's Vineyard on Facebook. Don't forget to "Like" us on Facebook, and follow us on Twitter, Linked In, Google+, Pinterest and Youtube and Instagram.