Sadly as of August 25th, 2018, The Cobbler Shop closed its doors.
When I lived in Philadelphia, you would go to the cobbler – if your shoe broke, had a handbag that needed some TLC, etc. Moving here, it took me a while to figure out that there was a cobbler on the Island.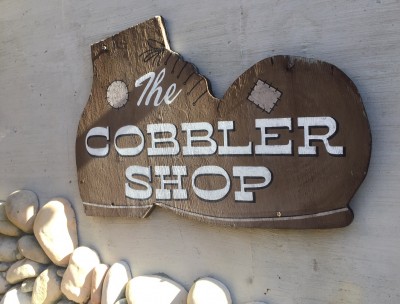 Yesterday, I broke the tab on a pair of my favorite ankle booties. Such a bummer, but definitely fixable. Not by me of course, but by the cobbler. I had mentioned this to my friend, and she had no idea what I was talking about.
Today, when I went to The Cobbler, on Sea Glen Avenue, off Edgartown-Vineyard Haven Road, I realized that there was a story here. Maybe others didn't know about the magic of The Cobbler. I have been bringing stuff for years now, and sometimes it's been a lifesaver.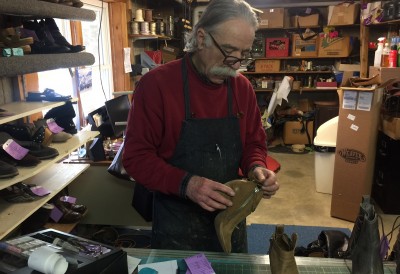 Even though the owner, Nancy McMullen, is no longer in the shop, Darry Spain took over the business, coming to the Island in December, 2013. Gary has been doing shoe repair on and off since the 1970's.
A mutual friend of Nancy and Gary's got the two talking, and Darry and his family had a reason to come make a life on Martha's Vineyard. He likes the work, likes the Island, and seems like a really good guy.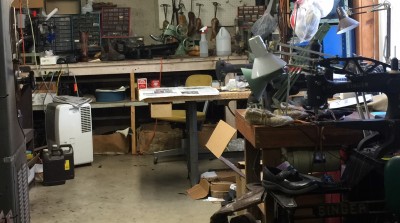 One of the funniest things he has seen while in the shop was when a couple of ladies poked their heads in looking for peach cobbler. I guess the boot on the sign isn't a dead giveaway. This story definitely made me smile.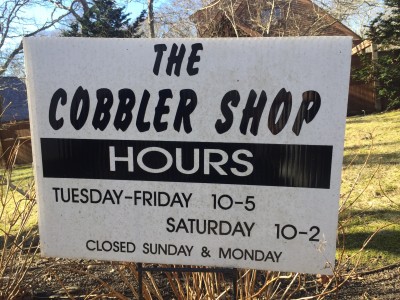 While Darry's work is good, and timely, sadly many things these days are not made to be repaired. Darn fast fashion world. However, those pieces that you love, those investment pieces, those heirloom pieces have the chance to live on if they need a little sprucing up or new sole. It's worth the trip to The Cobbler to have them useable again. The classics are always in style!
I love that there is someone so talented and keeping an "old world" tradition going on our tiny Island. Darry is true to his craft, it's all work, and that's what keeps people coming back.
You can learn more about The Cobbler on Facebook. Don't forget to "Like" us on Facebook, and follow us on Twitter, Linked In, Google+, Pinterest and Youtube and Instagram.