And we're back….The Ritz reopened its doors for the 2018 season in early March. What a roller coaster it has been the last couple of years for this iconic dive bar, music haven for the Island since 1944. In this blog, I bring some interesting news.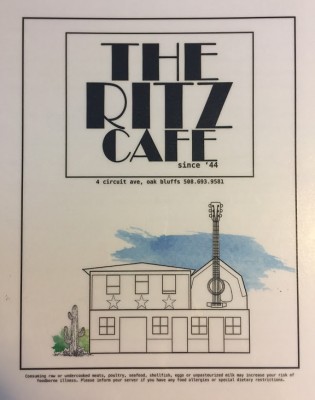 The Ritz is embracing its roots. What's this bar known for? Music, but of course, and for being a dive bar, which together create a pretty cool place. It doesn't need to be a barbecue joint. It doesn't need to have fancy food, good food yes, but not fancy. It just needs to be The Ritz, with little bit of a modern twist.
By modern, I mean renovated bathrooms, and a menu that speaks to the $3 PBR day drinker and the 40 something mom who wants to grab a bite with her friends and everyone in between. A space that is welcoming but has a little rock and roll edge, a neighborhood dive bar.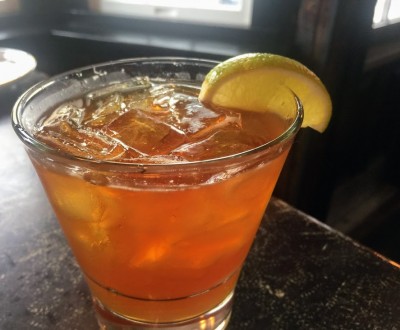 A place where most customers don't want fancy drinks, but they want good beer and good spirits to savor. Where classic cocktails, are just that but maybe with a local tie, like the 5 Corners Flood (Dark & Stormy).
Welcome to The Ritz. Helping take it back to its roots, general manager, Kelly Feirtag, is working on bringing back what so many people loved about The Ritz, like the fact that it's affordable, a hang out locals like, keeping the music scene going, and adding more to get people through the doors.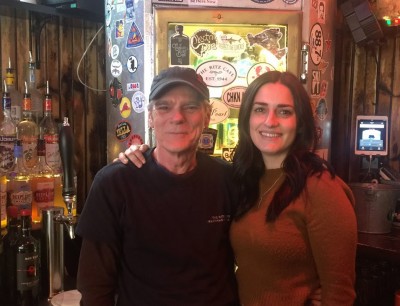 Since joining the staff last Fall, Kelly has spent a lot of time talking to people who spend time at The Ritz, whether daily, weekly, monthly, she's met with a diverse group. Looking to see what people like about The Ritz and how it can be better. People have been really responsive, and it's been helpful. It seems as though they just want a place for a good drink, food, good company, music, and little fun now and then.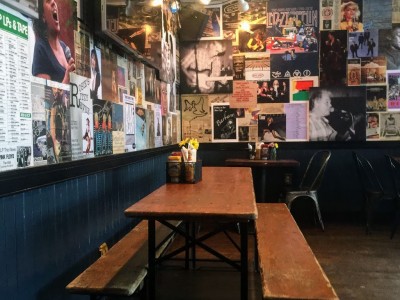 So on most nights, you'll find local bands that are sure to get you out of your seat and dance. Speaking of music, one great addition from the renovation is the room next to the bar is now covered in great images of musicians and bands. You'll even find a number of local bands' posters mixed in. See if you can spot them all next time you go in.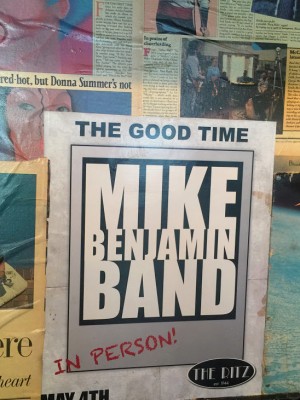 This new "old' look helps remind you what's at the core of The Ritz – music. There are not that many places left for people to enjoy live music, and this keeps The Ritz as an essential establishment on the Island.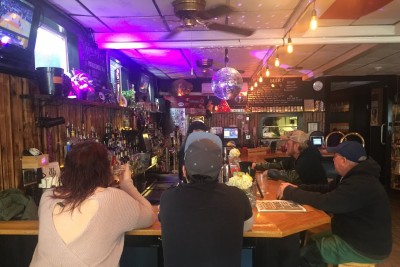 However, bar cannot exist on music alone. Well maybe it can, but I like to be able to grab a bite when I am out socially. You know what can happen when you enjoy too many libations without proper sustenance. Also, why cook if you don't need to! The kitchen opens at 12:00 p.m. for lunch and is open late night, until 10:00 p.m.
As I mentioned before, a place needs to have good food, a menu with something to appeal to its wide range of customers. And yes, The Ritz is a dive bar, but it's a dive bar on Martha's Vineyard, so there are some different expectations. Welcome chef Brian Counihan to The Ritz's kitchen. He officially confiscated the kitchen space on January 1st.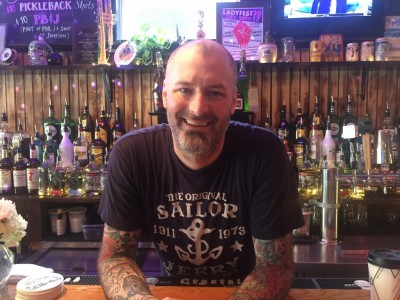 Though he thought he'd be bartending, this chef, most recently at the Tin Hanger, could not stay away from the allure of the kitchen. Also, this kitchen allows for a chef to have fun with the food coming out. The food isn't serious. It's good, and has some fun plays on the classics.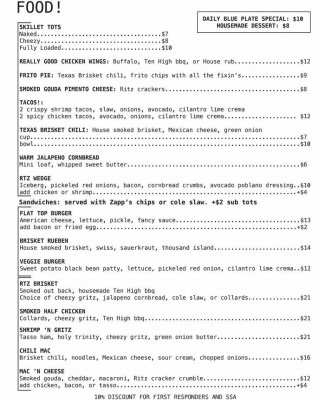 On the menu you'll find a nod to owner Jackie & Larkin Stallings' Texas roots with Texas Brisket Chili. And if you like chili, how about a dive bar classic, a Frito Pie. Kelly was surprised I had NO idea what that was. Apparently it's a dive bar, food truck, Texas staple.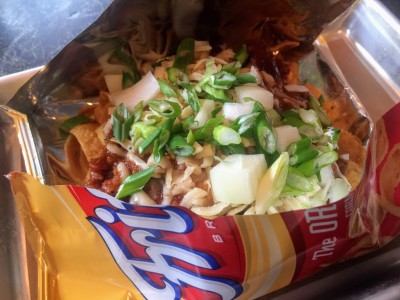 A Frito Pie is a bag of Frito chips topped with chili and all the fixings – all in the bag itself. What!?! Nothing I would ever order to be honest, but since I have to break out of my comfort zone every now and then for work, why not try it.
It was delicious. The crunch of the corn chips with the awesome Texas Brisket Chili and sour cream and scallions, grab a fork and go to town. I also loved the novelty of the whole experience. I ate chili from a bag. If you have any friends who like this dish, bring them by. I have learned that Frito Pie has quite the following.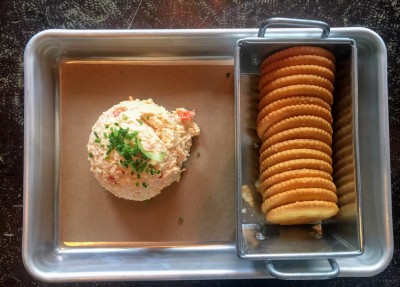 Another dive bar classic, is the Smoked Gouda Pimento Cheese, served with Ritz crackers (the Nabisco ones). Johnny, a bartender there, remembers pimento cheese fondly from his childhood and thinks that Brian's is some of the best. He actually ordered this dish for me. It is good, but for me, I think I like it more for a bagel. I have a deep love of Bruegger's Bagels' olive pimento cream cheese from growing up. What can I say, I am emotional with my food.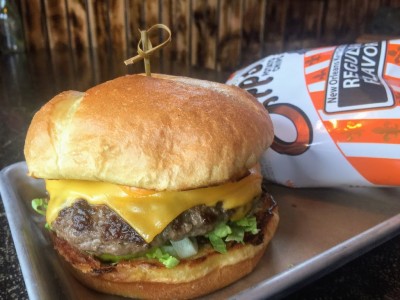 Perhaps you want something more basic to fill your belly. I know that I like a good burger. The Ritz has a pretty darn good burger. Its Flat Top Burger came perfectly cooked, topped with American cheese, lettuce, pickle and a housemade sauce. You can also add bacon or fried egg (yum). It comes with Zapp's chips, delicious chips made in New Orleans. However, you can also sub for the Skillet Tots which are beyond delicious! Those tots are deadly. So glad they're still on the menu.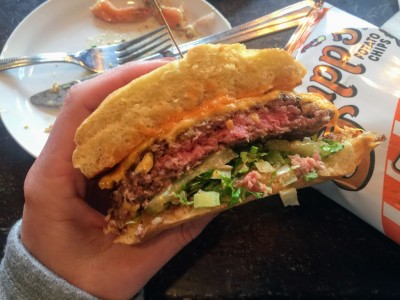 If chili and burgers are a bit too heavy or meaty, there are vegetarian options, and even salads. I tried The Ritz Wedge, a fun twist on a classic. The Ritz Wedge is iceberg lettuce with pickled onions, bacon, cornbread crumbs, from their delicious housemade cornbread, and housemade avocado poblano dressing. It's a melody of flavors, reminiscent of a Wedge but with a little more edge, not just a vehicle for bleu cheese. You can have chicken or shrimp added to it too if you like.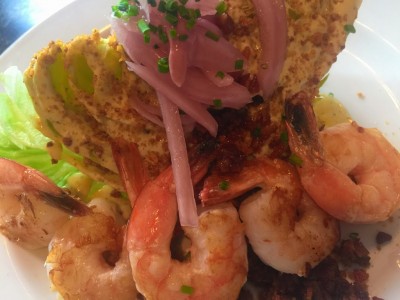 I was supposed to save room for dessert. Like the play on dive bar classics, Brian is having fun with the dessert options as well with things like Twinkie Tiramsu, but that will have to happen another day. I had too much good savory stuff!
The menu is basic and with lots of options. If you're a fan of the Blue Plate Special, not to worry, it will back soon. Rolling out a new menu requires a bit of focus and feedback from the customers. That comes first.
How about Trivia? You know the Island has a love affair with this pastime. Now on Tuesdays, you can try your hand at trivia with the lovely Emily Hunsaker and funny-man, Johnny Showtime. Play hard, work those brain muscles and then stay and sing your heart out. All this happening on a Tuesday night.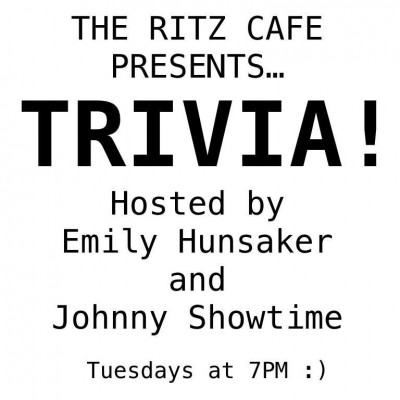 \What about Karaoke? Well that is still happening as well. Tuesday nights, after Trivia.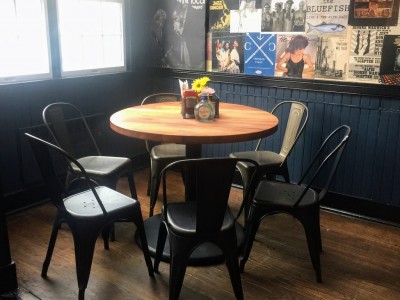 Something else that might make its way to the bar, board games. Kelly wants to bring back "day drinking." Having a drink with a friend, playing Jenga or such, to pass the time with something a little more fun then just sitting there. Could you image Cards Against Humanity with a couple friends at the round table? Could be fun, with a dash of naughty!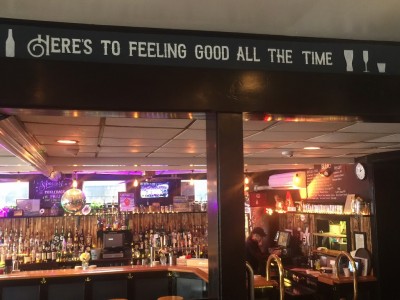 As it says on the wall, "Here's to feeling good all the time," which you might recognize from Seinfield. With the start of a new season, there is reason to keep on loving this iconic bar and perhaps give it another try if you haven't been in a while. Also, look for classic Ritz t's and trucker hats coming soon!
You can learn more about The Ritz on Facebook. Don't forget to "Like" us on Facebook, and follow us on Twitter, Linked In, Google+, Pinterest and Youtube and Instagram.