Let's face it. Once you have Edgartown Meat & Fish's steak tips, you're hooked. An added bonus is that in addition to amazing meats, beautiful cuts and selection, you can get everything else you need there too. One stop shopping.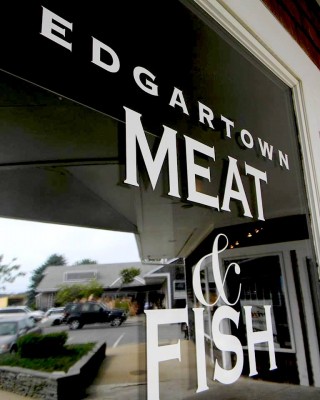 Edgartown Meat & Fish has the accoutrements you need, all sorts of sauces, pantry items, produce, and of course a selection of carefully curated wines and beers. I had no idea just how well stocked for provisions they are.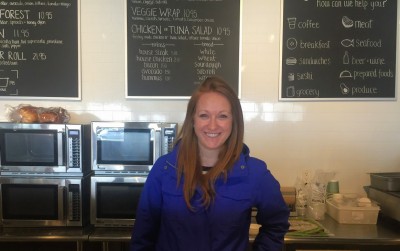 Why am I telling you what you may already know? Well, it's time to stop back in. Edgartown Meat & Fish has redesigned its floor plan and made some small changes that have a big impact.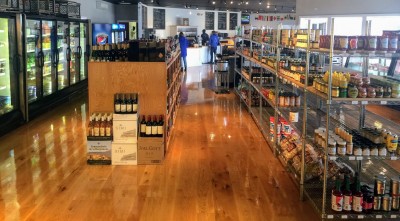 The space is so much brighter and more open. The refrigerated display cases have been moved from the front of the store to the back. The beverage coolers have also been moved.
These moves let so much more natural light in, and the space feels so much bigger, and more welcoming. Add a coat of fresh, white paint, and voilà – it feels almost brand new. You can't even imagine it was once a Hollywood Video in its previous life.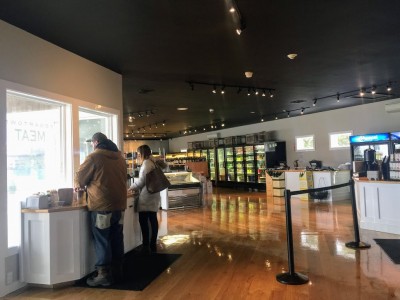 Also, the coffee station is in a new location, helping with the flow of the space, and I think it's new home makes it a bit more of a social spot. Speaking of coffee, how awesome is it that Edgartown Meat & Fish serves Starbucks!
Oh, there are many a times I need one of my favorites from Starbucks. Not sure if it's the coffee or just the mentally soothing, but a Caramel Macchiato, light syrups, with an extra shot of espresso just does me right.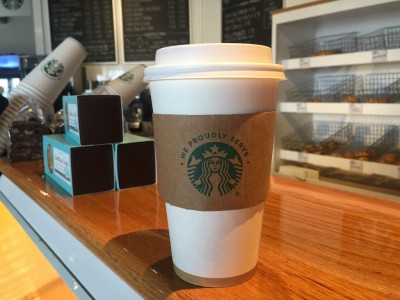 If you love the coffee there as much as I do, you're in for a real treat during March. Fridays are "Free Coffee Friday" — any size drip coffee, ICED or HOT. It's their way of saying thank you for shopping with them all winter long.
I think this is such a nice thing to do, especially since March is a bit of bleak month, weather wise for the Island. This is a little ray of sunshine! Remember to bring your refillable cup!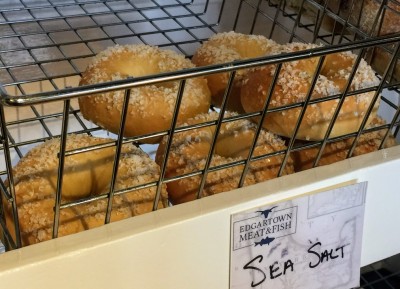 Not a coffee drinker? No problem. I can list a dozen reasons to go to Edgartown Meat & Fish. Have you had their bagels? They are not just any bagels, but bagels that are housemade, made fresh daily. The asiago cheese bagel is ridiculous. These things are worth the gluten.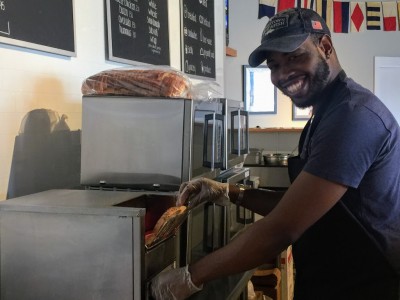 I had stopped by not only to see the changes, say hi to owner, Erin Ready, but also for breakfast. Walking around, talking and taking pictures can really build up one's appetite. Not really, but after Erin told me her favorite breakfast sandwich, I had to get one. Also, Junior makes a mean sandwich!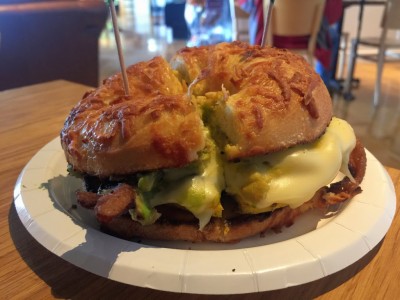 She too likes the asiago cheese bagel, but also an everything bagel on occasion, topped with cheese, bacon, egg and avocado. I have to agree, this was one hearty, satisfying, delicious way to start my day. I really do love their fresh bagels. Don't be surprised if you find me back in the kitchen, making bagels for a story. They're that yummy.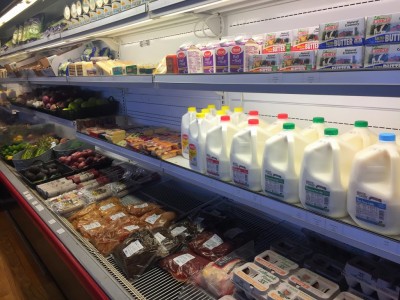 In addition to delicious meats, bagels, pantry items, coffee, beverages, there's sushi! Arguably, the best on the Island. When I was there, Tony was busy making beautiful sushi for the day.
You can grab and go or special order if you like. The sushi bar is the perfect solution for a healthy lunch or dinner.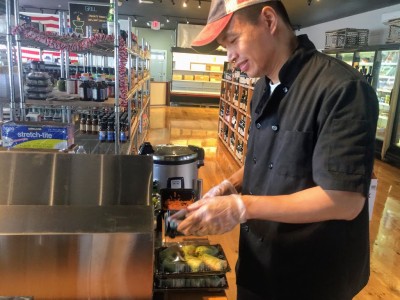 Going back to meats, manager, Sam Shattuck, serves up such good chicken, beef, and fish. How great to grab specialty burgers or marinated chicken and just have to throw it on the grill or if it's too cold for you, on the stove, and in no time, you've got an incredible, easy to cook meal. Such good options for entertaining too.
There is something special about buying your meat fresh and not pre-packaged. Taking it home, unwrapping the butcher paper, the whole experience. It is so much more than grabbing food wrapped in plastic and styrofoam. Edgartown Meat & Fish offers you a personal experience, a touch of old world attention to detail.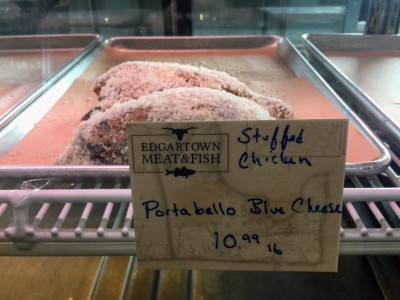 So many reasons to love this family run shop. Let me give you more! This summer, look for a selection of fresh breads, Island made specialty baked goods, more prepared foods, more fresh, local produce, and hope you're ready for this – KOMBUCHA on TAP and NITRO COFFEE on TAP. Sweet!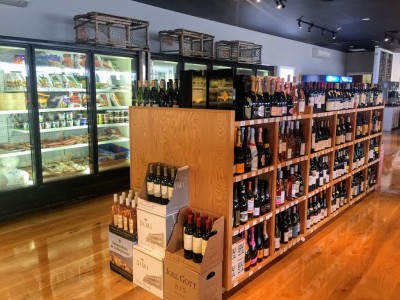 Thanks Edgartown Meat & Fish for being open year round and for providing us with lots of good stuff!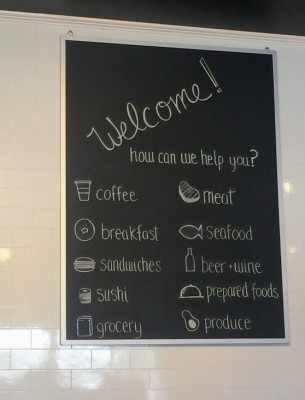 You can learn more about Edgartown Meat & Fish on Facebook. Don't forget to "Like" us on Facebook, and follow us on Twitter, Linked In, Google+, Pinterest and Youtube and Instagram.