It's a Tuesday night in February and I can't find a parking spot a The Barn!?! How can this be? Well, when I walked, I knew why. The smell immediately made me hungry. The smell of curry, of exotic spices, Indian food.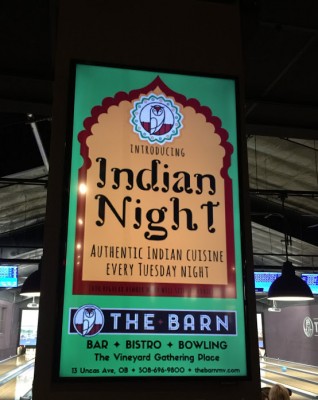 The dining room was packed and I have to say that 90% of the people in the restaurant were eating from the Indian food menu. The regular menu is available as well, but the "specials" for Tuesday nights feature Indian dishes.
The idea of featuring a night that highlights Indian food has been on the back burner for a while said general manager, Mike Sawyer. His dad is one of the owners of The Barn and he is a big fan of ethnic food.
A little Vineyard magic happened. Shivi Datta applied to work in the kitchen at The Barn. Shivi's grown up surrounded by authentic Indian food her whole life. Her mom, Uma, even teaches classes at ACE, teaching people how to make authentic Indian food.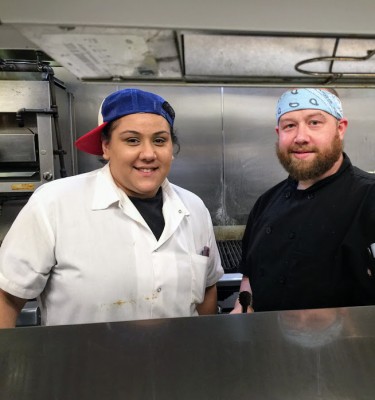 The Barn's chef, Dan Kelleher, who has been in this kitchen for a while now is making magic happen. Not only has The Barn become a destination for dinner, but he is open to trying new things. On Tuesday nights, Shivi takes the reigns and creates a specialized menu. She creates traditional Indian dishes and also has some fun with them. She, Dan, and the kitchen team have a lot of fun with this night.
Shivi has a wealth of knowledge with Indian food, and she loves sharing it with people. Even Dan is learning things from her. Many people have had her mother's food, but now it's her time to shine.
The menu for Indian night is not huge. It features a couple of apps and a couple of entrees. There's is something for most Indian food fans on the menu. There are things that stay the same each week like Shivi's Chicken Curry and the Papadum, but other items change.
For my friend Veronika and I, it was easy to order. For apps, we got the Cod Pakura. Cod battered in chickpea flour, perfectly fried, served with Shivi's cilantro-mint chutney. These were so good. Well seasoned, and that chutney is a show stopper. Bottle that baby up and sell it. I want it in my kitchen.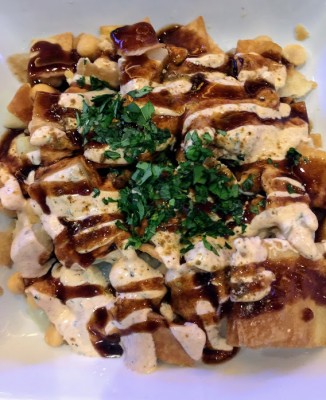 We also tried the Papri Chaat which is crispy fried tortillas with potatoes and chickpeas, topped with a yogurt and tamarind chutney. This dish took a little to get used to for us. We were surprised it was served cold, almost like an Indian potato salad. However, the flavors were good, and we added some of that amazing cilantro-mint chutney too which really upped the flavor.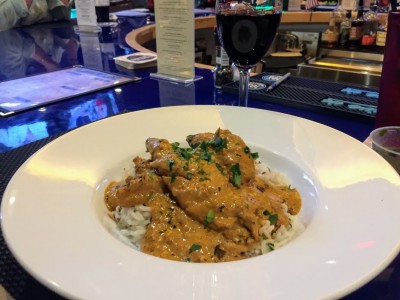 Dinner was easy for us. Veronika is not big into spice. So, she could either go with Shivi's Chicken Curry or the Mixed Vegetable Sabri. It turns out that Shivi's Chicken Curry has become a house favorite, super flavorful and not too spicy.
I however wanted a little heat so I opted for the Shrimp Curry. I should mention that it's important to talk to your server about what you want from your Indian experience if you're not an expert, which I am not. It felt good to order with confidence and know what to expect. We ate at the bar, and Anthony was really helpful and was fun to interact with.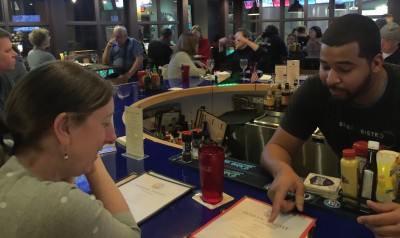 Veronika was very happy with the chicken. How fun to have Indian food for dinner on a Tuesday night – so random for most people.
I was extremely happy with my dish. The shrimp had some heat, served with a spicy-sweet coconut curry over perfectly cooked basmati rice. This is a dish that I would have again for sure, and I have to say what a nice treat for my palate. I don't need another American inspired entree or pizza anytime soon. I could see having Indian once a month, make it a thing to do with friends.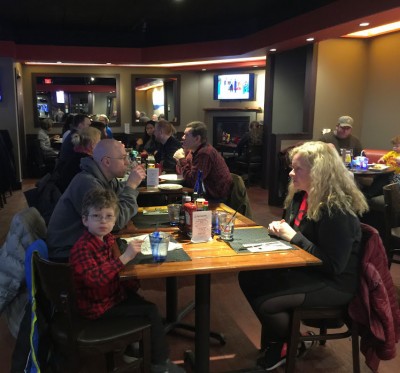 The staff was really into talking about the dishes, and the people sitting around us were pretty excited to have this as a dining option. There were a lot of smiling people in the dining room for sure.
The only bummer was that I kinda wanted to finish with something sweet. Maybe a little coconut ice cream? Or rice pudding? I wanted to have the whole experience.
What's not a bummer is that it looks like Indian night might continue throughout the year, even in the Summer. The Barn has tagged itself "The Vineyard Gathering Space." With this, the specials they run are not seasonal, but rather year round, keeping people invested in coming back again and again for what they like. Stay tuned for more specials from The Barn, like breakfast!?!?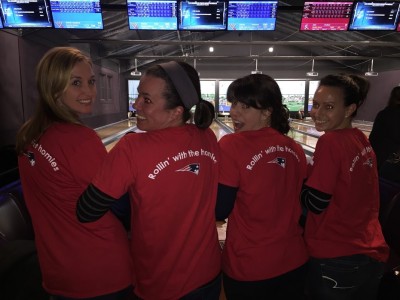 What adds to the fun of The Barn is that there are also league nights. So in addition to great food, you can check out the league bowlers. Tuesday night is ladies' league night – how great to run into my friends and check out their bowling skills and great great t-shirts like "Rollin' with the homies!"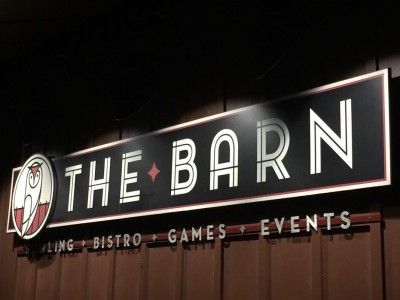 You can learn more about The Barn Bowl & Bistro on Facebook. Don't forget to "Like" us on Facebook, and follow us on Twitter, Linked In, Google+, Pinterest and Youtube and Instagram.