Each Spring, the Lighthouse Grill at the Harbor View Hotel hosts a series of wine dinners. The series usually highlights a certain region of a country, with a collection of wine's from that origin.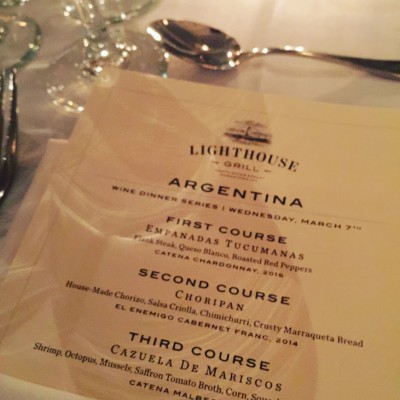 Last month, my friend and Joanne and I were transported to Argentina. Did you know that Argentina is the world's fifth largest producer of wines? They're on the rise and sure to become even more popular. I know I myself am a big Argentinian Malbec fan. If you missed this event, not to worry, there are two more in the series (more info below).
What's great about this wine series is that the wines are brought to life by M.S. Walker wine representative David Hall. He shares a wealth of information about the wines you are drinking, describing they landscape, the weather, the temperature. As you're smelling and tasting the wines, you can close your eyes and get lost in the wine. Dreaming of the warm of the sun, and the lush green leaves of the vine.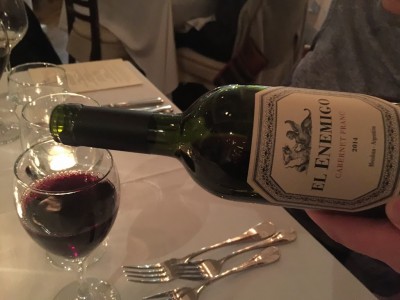 Opening your eyes back to reality, you then find a carefully prepared, Argentinian dish in front of you. Chef Richard Doucette, creates a five course meal that continues your journey to the country focused on. I don't know how he does it, but he creates culinary, worldly masterpieces. His focus, passion and attention to detail is incredible. It comes through in his food.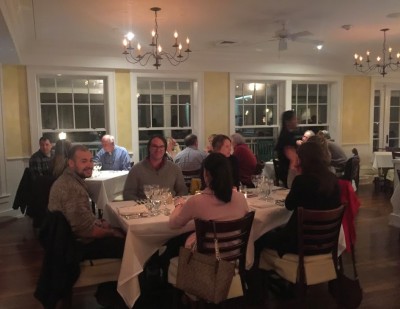 With roots, no pun intended, dating back to the country's Spanish colonization, you will find a heavy Spanish influence in Argentinian cuisine. How great to be able to have a water view on Martha's Vineyard while eating delicious ethnic-inspired food, available for just one night! This is one of the best things about this wine series, not to mention that it's something fun to do during the more lackluster months on the Island.
Let's get back to food. As I mentioned, it's five courses so that means five wines (all for only $75). For the Argentina Wine Series, Richard prepared, Empanadas Tucumanas, Choripan, Cazuela De Mariscos, Veal Milanese A Caballo, and then pastry chef Emily Gobby created dessert (more to come).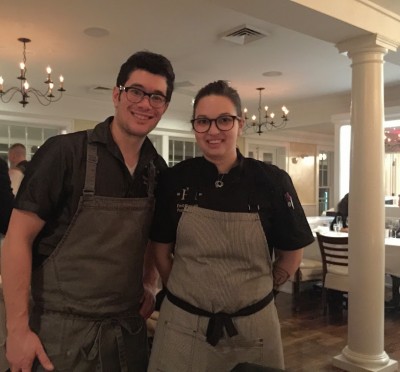 Don't those all sound so exotic!! Aside from Empanadas and straight Milanese, I had no idea what these dishes would be. What a joy to go on a culinary adventure in my own back yard.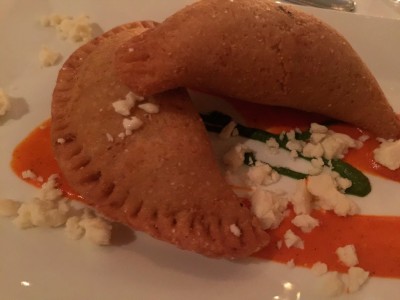 I want to highlight a couple of dishes. First of all, the Empanadas Tucumanas were incredible. These were street food meat pies taken to the next level. The crust….yum. The filling, flank steak with queso blanco and roasted peppers was a great marriage of flavors.
I could eat these daily! This dish was paired with Catena Chardonnay (vines grown in Mendoza's high altitude mountain terrors). The fruity aromas of this chardonnay went well with the richness of the empanada.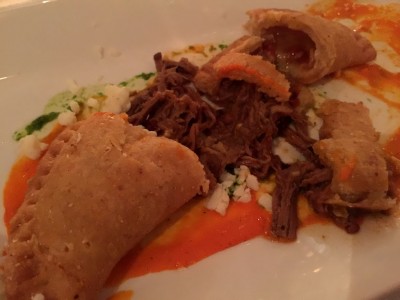 I should also mention that the Catena family is one of the largest wine producers in the country, a fourth generation vintner family, they have been an integral part of wine in Argentina.
The Cazuela De Mariscos was another amazing dish. Shrimp, octopus, mussels, tomato broth, corn, potatoes, and fugazza (Argentinian focaccia) was so delicious. The bread, the broth, the grilled octopus – a symphony of flavor with each bite. And how wonderful that this was paired with Catena Malbec? Such joy experienced with this course. So many ingredients I've had it before but not prepared like this.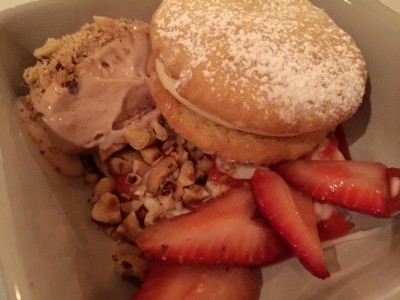 To bring the torture to an end (I am starving now and craving a glass of Malbec), I will conclude with dessert. Emily delivered what Joanne and I will deem one of the most incredible cookies we have ever had in our lives — Alfajores (soft South American cookies), with strawberry gelato and white chocolate cremeux with hazelnuts.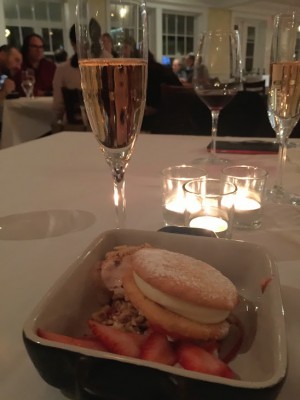 Whoa – these cookies make a girl even with a small sweet tooth, gaga. Richard refered to them as the Argentinian version of Oreos. These kick Oreos' butt! All I can say is if you ever see them, anywhere, try them. With Emily's creamy cremeux, this was the way to end a great meal. With a bang!!
The only bummer was that I did not love the Alma Negra Sparkling Rose Malbec that it was served with, but in all honesty, I was so ful,l that every ounce of room would be dedicated to this dessert, and maybe some of Joanne's too!
Cheers to M.S. Walker and the Lighthouse Grill for an evening of truly special food, wine and the experience itself. There is so much to lean about wines from around the world, and these wine series are a fun way to explore and get a little education.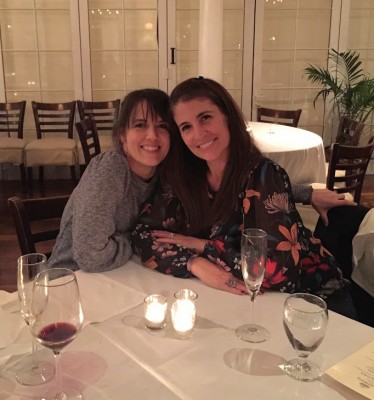 The next wine series dine is Swine & Wine. A different influence in the cuisine from the other wine dinners, this one is all pork, pork and more pork. This will be certain to be one not to forget. Richard is so excited to have a fresh, Island pig to use for the five courses. He has big plans for "the other white meat," and you know that if the chef is excited and inspired, then the food is going to be damn good.
Swine & Wine is happening at the Lighthouse Grill on Wednesday, April 4 at 6:30 PM – 9:30 PM. Tickets are $75 per person. Here's a little tease from the menu, Pork Belly Ramen with Shirodashi broth, house noodle, Gochujang, Hijiki, seaweed, shitake, and 162.8° FARM EGG, served with an Arrowood Cabernet Sauvignon, Sonoma County 2015. There are four more courses, each paired with the perfect wine! For more info or to get tickets, click here.
The final dinner will be held over Pink & Green Weekend, with Landmark and Justine wineries. The will date is Saturday, May 12th.
You can learn more about the Harbor View Hotel and its events on Facebook. Don't forget to "Like" us on Facebook, and follow us on Twitter, Linked In, Google+, Pinterest and Youtube and Instagram.
Like our blog and our involvement in the Martha's Vineyard Community? Please let people know! Voting has begun for Best of the Vineyard 2018 – please consider voting for Point B Realty for Best Real Estate Company 2018! Click here to vote!