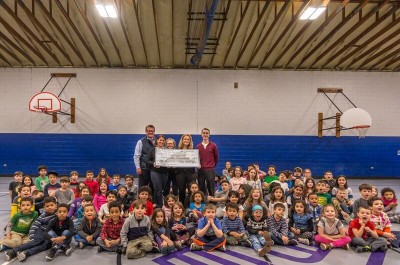 It's not everyday that you are surrounded by dozens of children cheering you on and yelling thank you. When it does happen, it's pretty remarkable.
I was able to experience this joy when we presented the fundraising check from Martha's Vineyard Teddy Bear Suite for $41,000 to the Martha's Vineyard Boys & Girls Club.
Seeing their smiling faces, knowing that they had full happy bellies, and would every day they came to the Club after school, with Healthy Happy Kids program (which provides free snacks/meals after school), stirs your soul. It's a good feeling.
There is something so wonderful about how simple things can be make children happy. Food, play, friends – things that so many take for granted, and when these kids are here, they can. They can just be kids together, and knowing that the Martha's Vineyard Teddy Bear Suite is helping fund Healthy Happy Kids makes me and our whole team of people proud.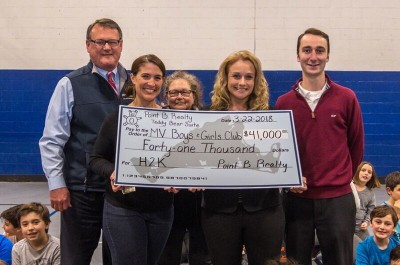 We think this community that we work in, is so incredibly special, and it is important to do what you can to support others. Learning about childhood hunger and how greatly it affects so many of our neighbors has sparked a passion in our office. A passion to create an event that is family friendly, full of holiday splendor and gives everyone who walks though the doors the chance to help too.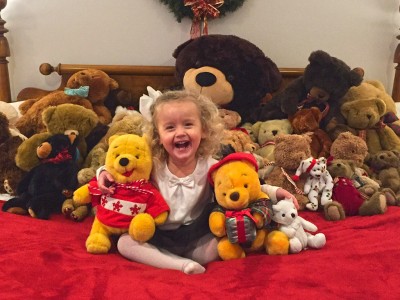 It was with full heats and great pride that we presented that check, and cannot wait for next year's event. We have raised over $110,000 for the Club since our first teddy bear suite in 2011. With its continued success, next year we might be able to meet the $50,000 mark and fund the whole Healthy Happy Kids program!
We are so grateful to all those who make this event possible and successful  — the Harbor View Hotel, the Vineyard Hurricanes, the boys & girls club, all the businesses who donated to our Christmas in Edgartown raffle, and to all the online donors and those at the suite itself. We thank you all! We are amazed at the generosity people have shown this fundraiser.
The Martha's Vineyard Teddy Bear Suite will have a new temporary home. The Harbor View Hotel will be closing in the Fall to begin reservations. Though we are sad to not have our lovely Captain's Cottage, we are happy at the thought of having the teddies downtown. Stay tuned for more details!
You can learn more about the Martha's Vineyard Boys & Girls Club on Facebook. Don't forget to "Like" us on Facebook, and follow us on Twitter, Linked In, Google+, Pinterest and Youtube and Instagram.
Like our blog and our involvement in the Martha's Vineyard Community? Please let people know! Voting has begun for Best of the Vineyard 2018 – please consider voting for Point B Realty for Best Real Estate Company 2018! Click here to vote!