Molto Bene – very good, is definitely how I would describe the food at La Soffitta in Vineyard Haven, and now in its third year, I would say this Italian restaurant has found its boschetto (groove).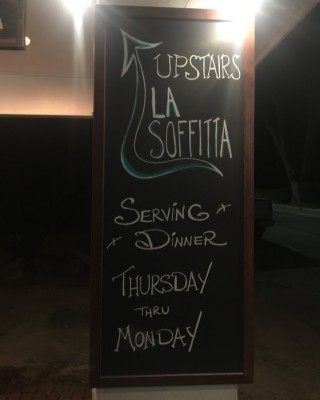 When you walk in, you almost forget that what the space looked like when it was Le Grenier, which is a good thing I think. The bar and lounge area are chic and inviting. I have to say that this is my favorite room in the restaurant. The other side is a little more intimate. I like the open space with all the interesting design elements to check out (e.g., the lights and the shuffle table).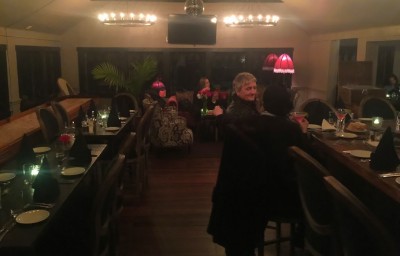 La Soffitta's chef, Salvatore Della, born in Naples, Italy, is a perfect and delightful match for La Soffitta. He has worked on Island at a number of restaurants, but here, he is home.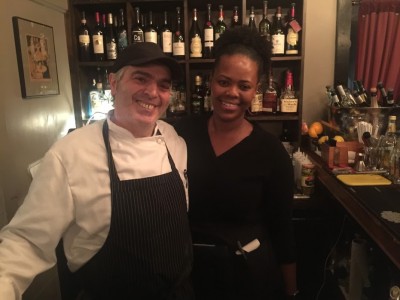 In his kitchen he creates beautiful, authentic Italian dishes. Not overly Americanized, all garlic, tomato sauce types, but beautiful, delicate dishes to delight the palate and soul.
An added bonus, there's a Frugal Foodie option at La Soffitta. Each night open, Thursday – Sunday, they offer half price apps and $5 artisan flatbreads from 5:00 p.m. to 6:30 p.m. Now, imagine grabbing a couple of girlfriends, taking over the lounge area, add a couple of apps and a bottle of wine? You have the makings of a lovely night out.
However, you can get a couple apps as a teaser and then go for the gold and stay for dinner which was what we did. I had not yet tried Salvatore's food yet, and this was the perfect night to make that happen.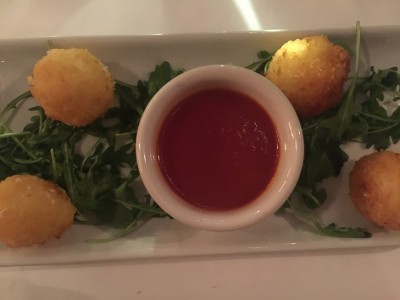 For apps, we had to get the Risotto Balls. I find that often this app is not very good, oily, yucky cheese used, etc. These Risotto Balls did not disappoint. I would say that there was a delicious balance of aborio rice and cheese and they were perfectly fried. How was the sauce? Couldn't even tell you, I am a purist, no sauce allowed on these babies.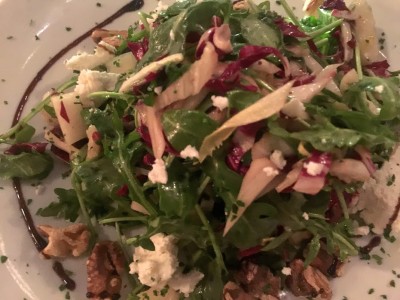 Of course, one should include some greens in their dining out adventures. We opted for the Insalata Tricolore. This tricolor salad was made with arugula, endive and radicchio, topped with pears, walnuts, goat cheese and a housemade prosecco vinaigrette. Delicious of course. How could it not be with all those sweet, earthy, bitter, creamy ingredients all well balanced. Topped with prosecco vinaigrette — the icing on the cake!
After apps, it was on to dinner, where pasta is a must. I don't care about carbs, gluten, calories when there is fresh, housemade pasta on the menu. I want it because it is worth it.
I choose a dish with duck, peas, housemade pappardelle and a porcini mushroom sauce. YUM!!! The richness of the duck with the earthiness of the mushrooms and the creamy sauce with melt in your mouth pasta — just wonderful. I had to use every ounce of restraint to not clean my plate. Next time, I think I will try the eggplant parm, an oldie but goodie!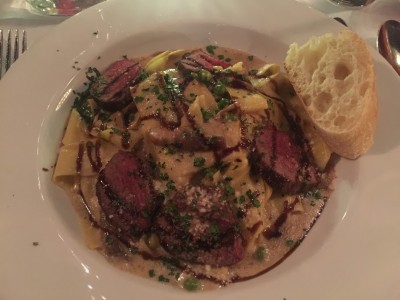 My husband choose the beef version of mine, Pappardelle al Filetto. It too had homemade pappardella but featured sautéed beef filet tenderloin, a porcini mushroom sauce, peas and parmigiano. Mine too had parm, not to mention all the fresh parm I topped my dish off with!
There's something so comforting about a belly full from good Italian food. You just feel relaxed, and ready for a great night's sleep. At this point, I like to push the envelope……add dessert to the mix.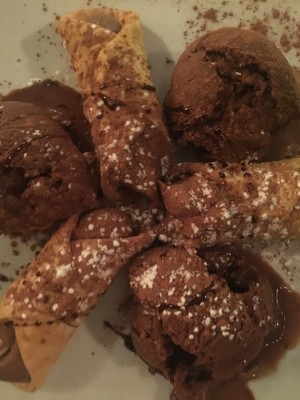 La Soffitta offers delicious Italian dessert options, including, you guessed it – CANNOLIS! Cannolis made right here on MV?!?! It would almost be a crime not to have them, and they were so good. I was a little hesitant about the addition of ice cream, but a delicious pair indeed. So, remember to save room or make room for a sweet conclusion.
La Soffitta is serious contender for greatness in the Martha's Vineyard food scene. The food is really, really good, and you can tell that the chef favors quality ingredients. With that comes a cost, dinner can get pricey, but it will definitely be a memorable meal.
I can't forget to mention that La Soffitta has a full bar, wine, beer and cocktails, truly something for everyone! I was drinking my old standby, Malbec while my husband had a Negroni. Nice to know that you're not limited in this category anymore in Vineyard Haven.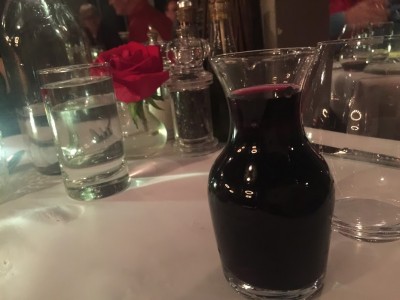 You can learn more about the La Soffitta on Facebook. Don't forget to "Like" us on Facebook, and follow us on Twitter, Linked In, Google+, Pinterest and Youtube and Instagram.