The joy of four day weekends in January on the Island. Having just travelled for a week for the holidays, and getting ready to travel for Winter break, I was feeling less than motivated to pack up the kids and head off Island.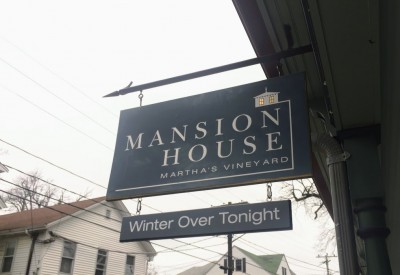 I do, however, like to feel like I went away or did something a little special. Luckily, the Mansion House is offering its Slumber Party special. Celebrating the 33rd year of owning the Mansion House, Susan and Sherm Goldstein, welcome Islanders to come experience the hotel for $33 per person (double occupancy) any night during the month of January.
It's a stay-cation right in your backyard. Why consider this as a way to add a little fun and adventure to this cold, grey month? I have a number of reasons.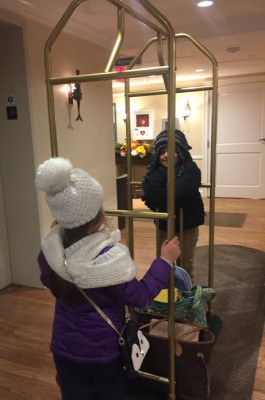 I live in Oak Bluffs, less than 10 minutes away, and pass the Mansion House almost daily. Yet, packing up with the kiddos for an overnight in a hotel had us all a little excited. The whole checking in and excitement of seeing your room is always somewhat exciting, even one town over. An added bonus, if possible, the Mansion House will try to upgrade you — sweet!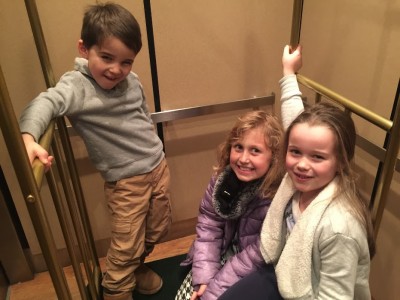 Speaking of sweet, we had a suite. Located on the second floor, it was the perfect room if you have kids. For my bedroom, there was a beautiful queen bed, with a balcony. The kids had a room with trundle day bed which they just thought was the coolest thing. I thought the coolest thing was the doors that separated the two rooms.
After taking in the awesome room situation, it was time for the best part of the stay-cation — the pool. If you're 5 and 7 years old, and you have a pool at your disposal during the Winter months, you're psyched. An added bonus, we had friends who were staying over the same night as us. Pool party!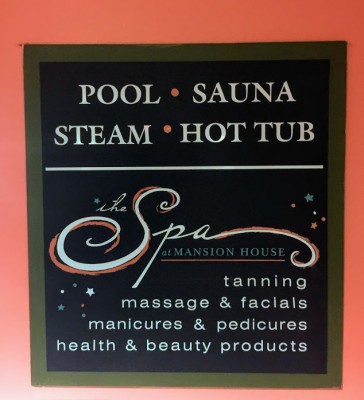 The kids went crazy for the pool and the hot tub. I went crazy for the steam room and the sauna. I had NEVER been in a steam room. It's life changing, whoa. The whole experience of the humidity and heat – sweating out all those toxins. It was incredible. I was smitten.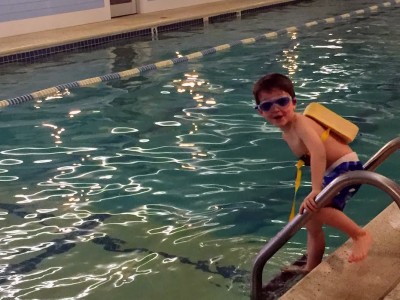 Just when I thought the evening couldn't get any better, my friend Shai told me that she would take my kids to dinner with her at Copper Wok, and I could have dinner with my husband sans kids. What a bonus.
Though Matt was not spending the night, had to go home at take care of our dog, Dashi, (a rescue chiweenie), he did come for pool fun and dinner.
It was fun to head upstairs and change for dinner after hours in the pool. We all met in our room, Matt and I bundled up to head to La Soffitta. Shai just had to have the kids put on shoes. It's really great to be able to walk right downstairs and go to Copper Wok. Everyone likes at least one item at a Chinese restaurant — even kids.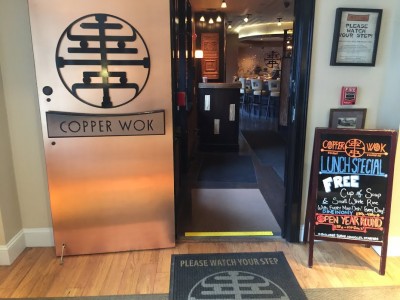 It was really special to walk down Main Street at night, with many stores still donning festive window and eye-catching displays. I cannot tell you last time I did this with Matt. Perhaps in the early 2000's when my friend Cindy owned Cafe Moxie and that was one of our favorite spots. It had been way too long.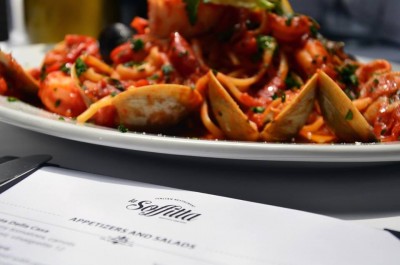 Walking back to the hotel and working off a small fraction of the thousands of calories we just ingested with joy, we couldn't help but reminisce about the days when we called Vineyard Haven home. How much the town has changed and how we hope it continues to grow. Now, that wouldn't happen sitting home having a pasta dinner.
Even though it was around the kids' bedtime when we got back, we had to keep the fun going. Matt left to go home, and Shai and the kids were in my room. We set the kids up with a game and then a movie. How lucky for us that Ratatouille the cartoon was on. We set them up with popcorn as well and they were in heaven. You know staying up late makes them feel super cool.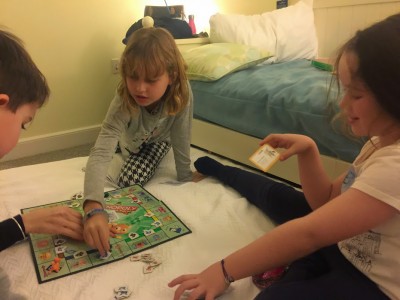 We went into my room, popped some bubbly, turned on trashy TV on Bravo and chatted away. Perfectly comfy in my big bed with a fluffy comforter and tons of pillows, we felt very spoiled. Somehow 10 p.m. came really quickly, and we had to say goodnight. I wish we could have stayed talking longer (girl talk is always more fun in a hotel room for some reason), but the kids were really tired after all the pool fun.
I had grandiose ideas for breakfast the next day. Waking up, walking to Art Cliff Diner for breakfast, strolling down to the water, and then coming back for pool time. When my kids woke up, I quickly learned that none of that was happening. They had their own plans. We were having the hotel's continental breakfast because they would not loose any pool time in the morning.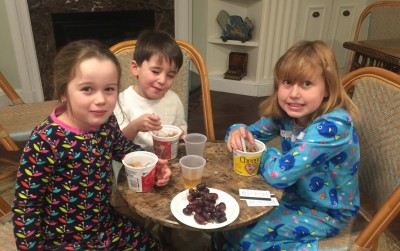 A little bummed, but hey, having kids happy is a big deal. I went with their plans, our friends too. I was pleased with the offerings at breakfast. The kids had cereal, fruit and of course a little marble poundcake, and ate quickly, without complaining (bonus). There were other options too, like hard boiled eggs, yogurt, pastries and of course coffee.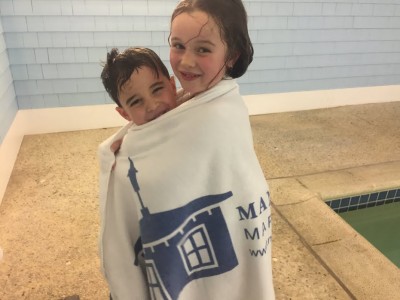 After breakfast, it was back down to the pool. There, time passed by way to quickly. We went from pool to hot tub to sauna (no steam room for the kids – they were a little scared of it). I have to tell you that experiencing the steam room in the morning was an incredible treat. I felt so much more relaxed after my time in it, even with all the other stuff happening all around me. I think I need to get a punch card for the Mansion House gym so I can access the steam room at least once a month. It's that amazing.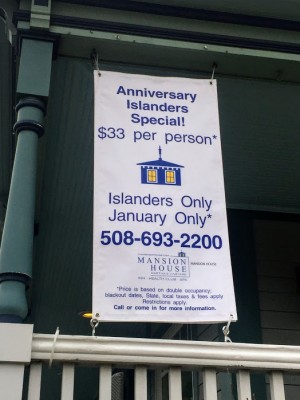 Sadly, check out time came way too quickly. It was time to say goodbye to our friends, the pool, etc,. and the luxury of having no chores or pets. It was really relaxing being away from home for a night, without the boat, traffic and driving hours to a destination. My daughter thought the whole thing was really cool. She said she felt like she was in Boston. I will take that as a serious mom score.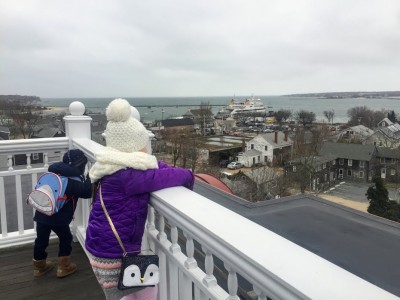 After checkout, we had to continue the experience of course. So, we decided to go shopping on Main Street. I thought we'd hit all the stores, but we got held by all the great kid's stuff at Bunch of Grapes, which was fine by me. Ending the experience with buying something special, with their own money, was like the icing on the cake. Everyone left Vineyard Haven happy.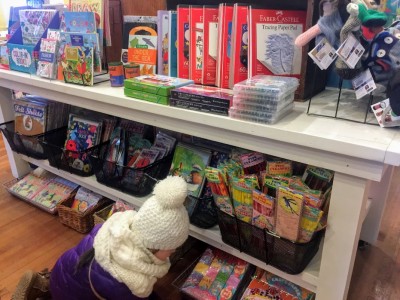 To have your own Mansion House Slumber party experience, you can call the front desk, 1.508.693.2200, to find out all the details. This is NOT an offer you will find online, and it's for Island residents only.
Don't forget that there is a full gym, including classes. I had hopes to do Sunrise Yoga, but that did not happen. There is also a full service salon, think about adding a massage into the mix,  how nice that would be.
And they are donating $10 to the Island Food Pantry for every room sold during this getaway special.
You can learn more about the Mansion House on Facebook. Don't forget to "Like" us on Facebook, and follow us on Twitter, Linked In, Google+, Pinterest and Youtube and Instagram.