Each third Saturday of the month at the Edgartown Diner, Chef/Owner Ralston Francis brings a little taste of the island of Jamaica to the island of Martha's Vineyard. Ralston, originally from Jamaica, knows how to create authentic Caribbean cuisine> Iit's in his soul, and it makes him so happy to showcase these foods here.
On these nights, the diner opens for dinner at 6:00 p.m. (will change during the Summer months). When you walk in, you can smell the deliciousness — curry and jerk seasoning, and of course, there's the music to go with it. A little Bob Marley, who, like Ralston, was from Jamaica.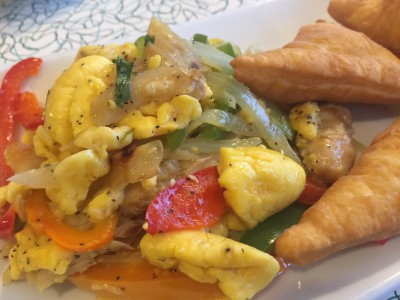 The menu has items that I recognized from my trip to Montego Bay, like the appetizer we got. It was ackee with salt fish, served with fried dumplings, which were like fried dough without the powdered sugar – the kids loved these. The ackee has such a strange texture. It's a fruit but reminds me of eggs. Served with the fish, it's a very distinctive, Caribbean dish.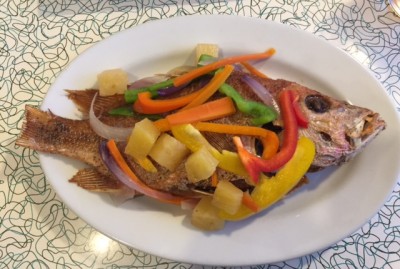 For dinner, my husband ordered the Escovitch Fish, deep fried snapper served with peppers, pineapple and onions. When this dish was served, we all got a kick out of it. The whole fish is on the plate. Something my kids had never seen before, and the eyes especially had my kids interest. It's a far cry from pasta or a burger or similar things that is usually on the menu.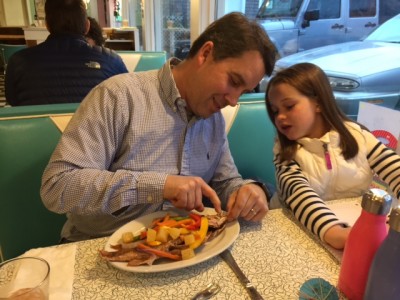 Once we got over the novelty of the outside of the fish, Matt dove it. It was delicious. An adventure to eat, and even my kids liked it. We had fun with that fish the whole meal. Served with choice of side, Matt got the corn bread — which is out of this world — and the rice and beans, which is always a good choice.
I got the goat curry. I had not had this dish yet, and it's always nice to try something new. It was really flavorful and delicious. I too got the rice and beans — a favorite of mine and the fried plantains. I don't like bananas but I do love some yummy fried plantains. It's nice to have something so different for dinner, especially in early April, when so many other places are still not yet opened.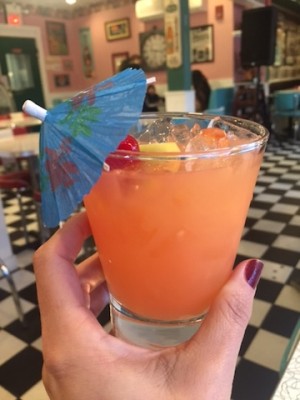 In addition to Caribbean inspired cuisine and music, there were cocktails too. When in Jamaica, you have to have a rum punch, and of course, Ralston's is made with Wray & Nephew from Jamaica. This rum packs a punch!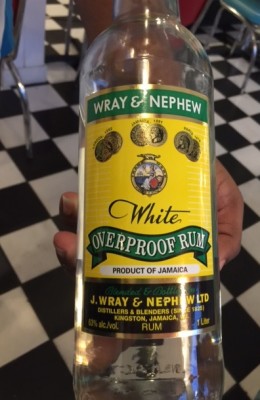 If you closed your eyes while you were sipping your rum punch, got lost in the music and smells, you could almost fool yourself for a minute into thinking you were somewhere else. Also, takeout is available, which is very popular on this night. Also, the scene really changes later in the evening. It gets very festive.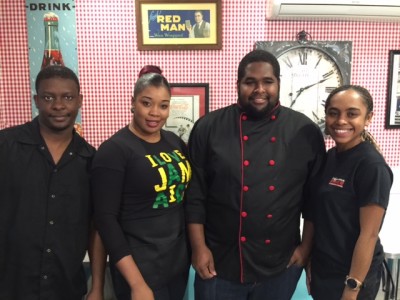 Chef Ralston and his team really have a lot of fun with this night, and celebrating a little taste of home.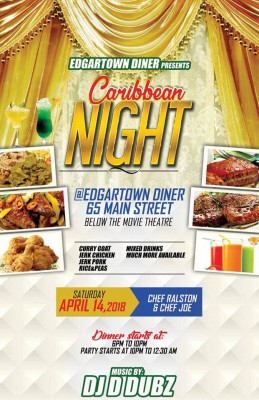 You can learn more about the Edgartown Diner and Caribbean night, the next one by the way, will be on May 19th, on Facebook and don't forget to "Like" us on Facebook, and follow us on Twitter, Linked In, Google+, Pinterest and Youtube and Instagram.