Not too long ago, we were talking about the Martha's Vineyard Boys & Girls Club's Healthy Happy Kids (H2K) after school food program. As a company, we are so invested in Healthy Happy Kids, which provides hundreds of Island children nutritious food after school.
We work hard with our annual holiday fundraiser, the Martha's Vineyard Teddy Bear Suite to raise the money needed to fund this program. Our 2017 drive raised $39,000, which covers much of the cost of this important program.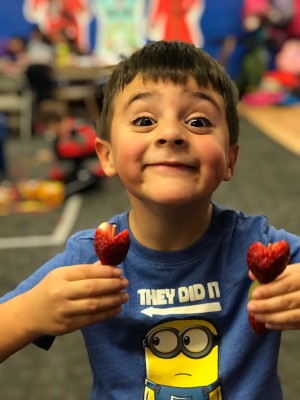 Why is Healthy Happy Kids so important? Childhood hunger is a problem on Martha's Vineyard. There are many children who go without food. This is tough to even consider because the Island is so beautiful and ofter thought of as a playground for the rich, but the truth is, there is a larger portion of the year-round population that struggles to make ends meet. Sadly, because of this, children can often go with out food.
However, not at the Club. After kids come to the club, there is free food available. Kids don't have to worry about having money or not — they just have to eat if they're hungry. This also is a good way to fill their bellies before heading home or to another childcare provider where they may or may not have dinner.
H2K even offers backpacks for children to take home on the weekend, filled with food items. Though we cannot solve the problem of childhood hunger on Island with this program, it is helping, and helping so many kids.
Also, with the addition of Healthy Happy Kids, the Club has seen an improvement in kids' behavior, more focus and participation in the homework club, and a lot more smiles. It's amazing when one's basic needs are being met, you can focus on other things, like being a kid.
There is a need all year round to help fund and provide food for Healthy Happy Kids, especially since the Club's enrollment keeps growing and there are more kids to feed.
You can help by making a charitable donation, but there are other ways to help. Sometimes it just takes a conversation to get the ball rolling. One day when I was at the Club doing Teddy Bear Suite work, I saw one of the staff members bring in a large number of bagged chicken tenders from Stop & Shop, which they had purchased for Healthy Happy Kids. Stacey Smith, the Club's office manager, told me that all the kids love chicken tenders.
A light bulb went on. One of my dear friends, Cameron Brookes, works for Tyson Foods, and I have to admit, that there is always a bag of their chicken tenders in my fridge for my kiddos. I asked Stacey if the Club would be interested in a donation of Tyson chicken tenders, and she excitedly said yes!! They are expensive to buy each week.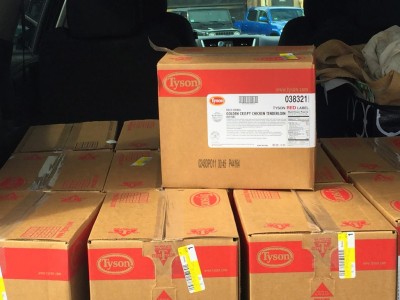 I reached out to Cameron. She thought it was a great idea, and the ball was set in motion. It was a good fit for Tyson because Tyson Foods is a big supporter in the fight against hunger, especially in the communities where their employees live and work. Cameron was happy to be helping the Club. She knows that this organization is important to so many parents on the Island who work, and of course, for the kids too.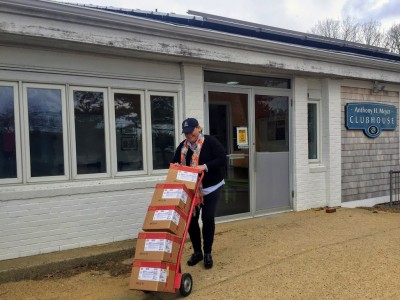 "Tyson has donated more than 100 million pounds of protein over the past 15 years and renewed our commitment to hunger relief by pledging $50 million in cash and in-kind donations by 2020. At Tyson Foods, we donate food because of extraordinary organizations work hard every day to see that people are fed in their communities. We couldn't do it without them."
The donation of 10 cases of Tyson Foods chicken tenders is a part of fulfilling their goal. How wonderful that an international company cares enough to help the Martha's Vineyard Boys & Girls Club. This donation is going to make a lot of kids happy and have full bellies!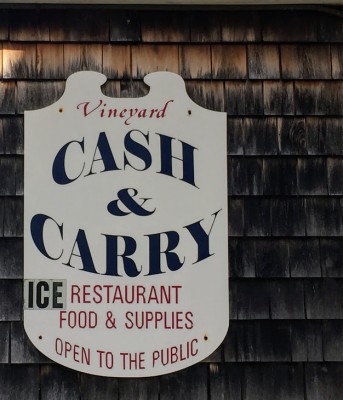 How did we get so much chicken to the Club? Well, that was easy. Cameron partnered with Vineyard Cash & Carry to have the cases delivered there. Then Cameron and I picked them up, and brought them to the Club.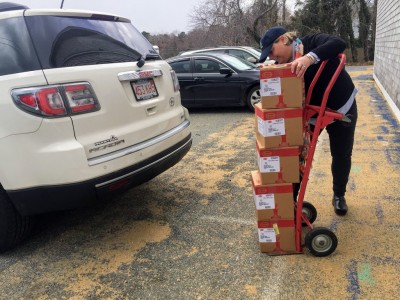 Since the Club knew they were coming, there was plenty of space in their freezer. It was fun, placing the bags in the freezer, knowing the impact this would have. Knowing that kids would be psyched to see Tyson chicken tenders on the menu for after school. Knowing that this donation would help so many kids and maybe even bring them a smile or two because these tenders are so darn good.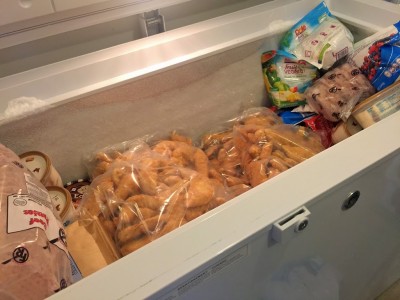 Thank you Tyson Foods and Cameron for helping make this donation happen! I hope that this company's generosity helps inspire other companies and people on and off the Island to help as well. No child should go hungry and together, we can make a difference.
You can learn more about Tyson Foods and the Martha's Vineyard Boys & Girls Club on Facebook. Don't forget to "Like" us on Facebook, and follow us on Twitter, Linked In, Google+, Pinterest and Youtube and Instagram.
Like our blog and our involvement in the Martha's Vineyard Community? Please let people know! Voting has begun for Best of the Vineyard 2018 – please consider voting for Point B Realty for Best Real Estate Company 2018! Click here to vote!