With Spring coming, a lot of us are thinking about shedding our less than stellar Winter habits. Some are looking for something to kickstart or motivate them to be a little more healthy and work on feeling better. The days of craving comfort foods are coming to an end, and lighter food is on the menu, with the lighter days.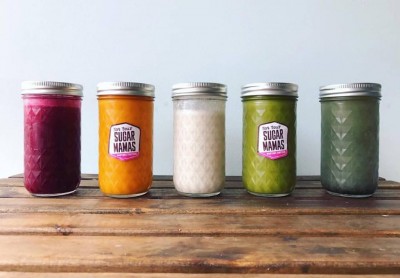 I am a big fan of food and beverages of all kinds, and with small children, I am also a bit of a vacuum cleaner. Recently, I had been waking up feeling sluggish and unmotivated, even after coffee. I go to the gym, which is helping me to maintain, but I wanted to get out of my slump.
The Whole 30 is not my jam. Paleo and Atkins aren't either with my current lifestyle. However, I was looking for something that might help me kick some of my bad habits or at least lessen them.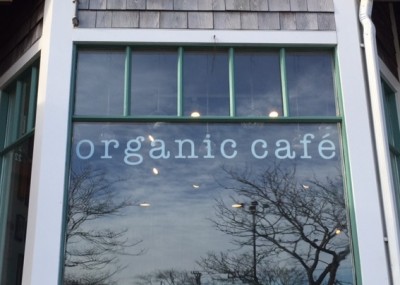 I had a friend who did the three day juice cleanse. She loved it. She said she wasn't hungry on it, her skin was glowing after (and it was), she lost a couple lbs, and had less of a craving for sweets (her big vice). I was intrigued. Could some juice for a couple days do all that.
Well, I was about to find out. As I mentioned in my blog about Not Your Sugar Mama's expanded Organic Cafe, Rachel Fox has joined the team, and she's helping keep the juices flowing along with Andrea, the head juicer!
Not Your Sugar Mamas offers one day, two day or three day juice cleanses. I stopped in to see Rachel and get her opinion on what might be the best for me. We both agreed on a two day, since I was a bit of a nervous nelly about the whole thing.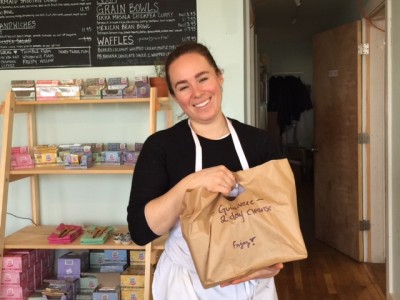 Juice cleanses are offered on the first weekend of each month and cost $55 per day. If you want to do one, you email info@notyoursugarmamas.com by the Monday before, and on Friday morning, you pick up your juices. The cafe opens at 8 a.m. and it's best to get them as early as possible, so you can begin. The juices are so fresh, they don't have a long shelf life.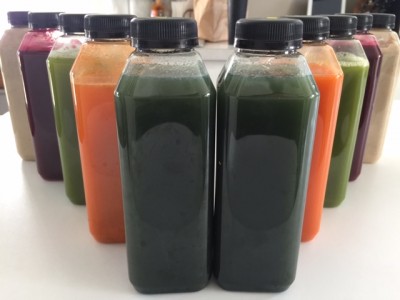 To decide and create the juice blends, they first looked at which fruits and veggies were most alkaline to help balance the body's pH out. They also looked at which vegetables and spices were most detoxifying, and chose apple to sweeten, because it has a higher alkalinity than most other sweet fruits.
There are five juices per day. The juices come with a guideline on how they should be consumed. Each juice is jam packed with seriously good stuff. I mean it's like drinking liquid gold five times a day.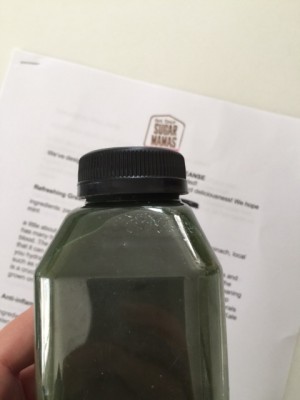 The five juices for the cleanse are (and these are listed in the recommend order for consumption) the Refreshing Green Juice, which has all sorts of good green ingredients in it, and it is light and delicious. I liked this one a lot, and I had no idea that parsley was so good for you. Next up, another favorite, the Anti-Inflammatory Orange Juice, which has a gorgeous orange color. From this, I learned that turmeric, which is all the rage, when paired with black pepper, has its bioavailability increased 10 fold (how it enters your circulation and its impact). I liked the little kick to this one.
The third one was the Detoxifying Beet Juice. Even though beets are one of the best veggies for you regarding detoxification, I am not a fan. If you like beets, then this is going to be a fav for you. However, I did drink it, both days.
The forth was soooooo good – the Vanilla Almond Milk. A little sweetness and a thicker consistency, I feel like this could be a breakfast or dessert drink to be consumed daily. I even had a friend tell me she added coffee to hers. This yummy, creamy goodness is a big aid in proper metabolism. Last but not least was the Spicy Lemonade, and may I just say that this was a game changer – not for everyone I bet. It definitely has a kick to it and I still crave this one.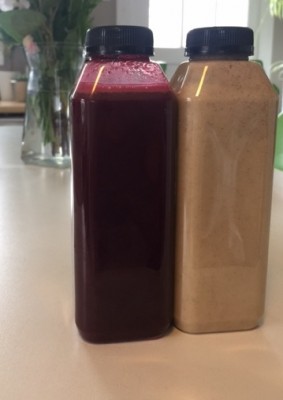 A great thing about this juice cleanse it that it's portable. I went to waitress at Offshore, and brought two with me, since I am there for an extended period of time. I am also busy enough so food isn't even on my radar.
If you feel as though the juices are not filling enough and you're dying of starvation or if you need something to chew on, there are options. In addition to the juices, you can eat cucumbers, almonds, avocados with olive oil and Himalayan sea salt.
Also, the gut healing broth and the Thai salad, both available at Not Your Sugar Mamas are available if you need something more than the juices. I have to admit that I did eat almonds and cucumbers on the second day.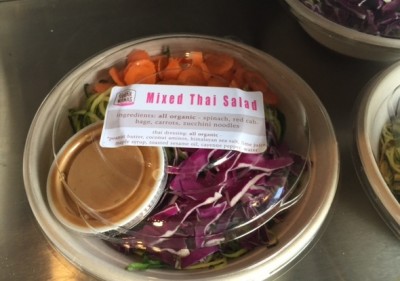 There are a number of effects you can feel from a juice cleanse. Here are some that Not Your Sugar Mamas shared with me: headache (be sure to drink extra water), irritability, weakness and fatigue, bad breath and body odor because of the detoxifying effects, bloating because the cleansing of the small intestines, darker than normal stool because of the cleansing of the small intestines, red-colored stool because of the beets in the "red juice", aches and pains. Not everyone will experience all of theses symptoms, but they're definitely possible while doing a juice cleanse.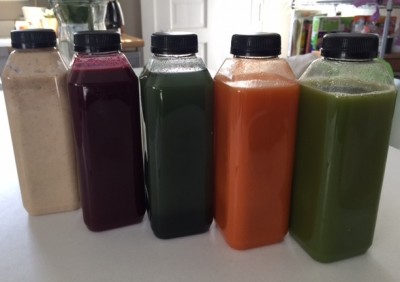 I was surprised at the list above. For me, I did have a headache around 3:00 p.m., which is when I would typically have my second cup of coffee, which I did not have. I found that I felt lighter, no bloating or any other physical discomfort. However, I did miss the physical aspect of chewing, which the almonds helped with. I wasn't too hungry, the juices seemed pretty filling.
Walking up on the day after my Not Your Sugar Mamas' juice cleanse was fantastic! First, I felt so accomplished. I know it was only two days, but I was proud of this success. Then, I got on the scale, and was even more pleased with the slight reduction in my weight. Third, I was not very hungry nor was a jonesing for my morning coffee like I usually am. My head felt clear and I felt energized, better than I have in a long time
For my first "meal", I had avocado with olive oil and little salt, along with some red raspberries and was fine. All day, it felt so much easier to not eat as much. The realization that I could survive and survive well on juices really was an eye-opener for me. I looked at food differently. As I said, I wish I did the three day.
I am not saying that this would be for everyone, but it's a great reset. Your body feels good, and it's very motivating, a kick-start.
It's a small investment for what can lead to big returns, even a modification of your life style. I was nervous about doing this, and for no reason. It's a gift for your body and even your mind. Finding the strength to commit and succeed – it's not always so easy for people.
The juice cleanse, though a struggle at times, was something I would do again. Heck, I'd love to do it once a month! But since that's not a reality, I have to remember what I learned about myself from the experience. Especially, that I do not need as much food as I consume.
The next cleanse sign-up date is Monday April, 2nd and pick-up is Friday, April 6th.
You can learn more about Not Your Sugar Mamas on Facebook. Don't forget to "Like" us on Facebook, and follow us on Twitter, Linked In, Google+, Pinterest and Youtube and Instagram.
Like our blog and our involvement in the Martha's Vineyard Community? Please let people know! Voting has begun for Best of the Vineyard 2018 – please consider voting for Point B Realty for Best Real Estate Company 2018! Click here to vote!