A little over three years ago, I wrote a story about Lauren Morgan. An Island designer who was launching her clothing line, premiering at Martha's Vineyard Fashion Week. As it turns out, that collection was a stepping stone in this designer's evolution to where she is now.
After designing her line, she was working with a consultant in New York City. This person was responsible for the all aspects of production. Lauren began asking questions. Questions about the quality of the space for workers, the sources of the fabric, how the fabric that was resourced came to be. She just wanted to feel good about the clothing she was making. However, she was answered with silence.
Also, the fashion world has its share of competition, and it's hard to keep up with the price point of "fast fashion." Not every buyer wants to invest in quality, small batch, artisan clothing. This is so true, however her designs were pretty amazing.
She knew she had to find her niche and also began a journey of becoming educated about the manufacturing world of design.
Not liking this aspect of the fashion world, she decided to not produce her line. So, she took a step back. She was really busy at work as an assistant residential designer at Martha's Vineyard Interior Design, and was building her house with her husband Nate.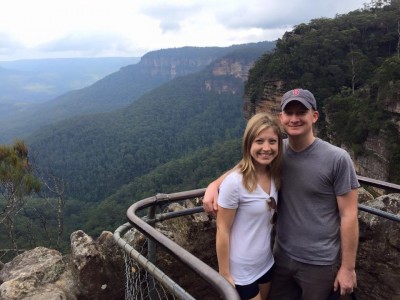 She and Nathan took a trip to Australia. One of her essentials for the trip happened to be a packable windbreaker. She used it over and over again. It was not very fashionable but it was effective.
When she returned home, she began began working on a packable windbreaker that would be fashionable and functional. As she began this process, she realized that there were plenty of rain jackets and such that were inspired or created by the British. Think Barbour and John Partridge.
How were there no New England inspired rain jackets? New England definitely has its own aesthetic , a since of fashion associated with it.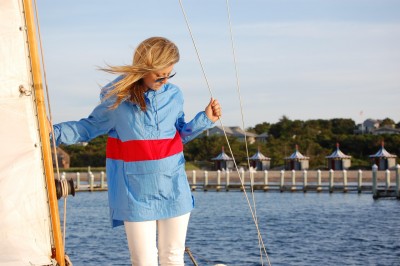 Lauren's package wind breaker design was going to be her test market. She was going to see how people responded to a jacket locally made and designed and sold at the Chilmark Flea Market.
Her design was well received. She learned about her clientele, price points, even learned that men wanted great looking handmade windbreakers as well, and she knew she found her niche — New England inspired rain jackets, small batch, made with a story and a conscience.
I say story because Lauren has been on an evolving journey as a designer. I say conscience because Lauren had been really looking into the manufacturing process of clothes and just how horrible it can be. How the chemicals used to create so many jackets that are water resistant or water repellant contain chemicals that are proven to cause cancer, yet the fashion world looks away.
How conventionally grown cotton uses pesticides that also cause cancer, yet the fashion world looks away.
These clothes that contain crazy, terrible chemicals that are toxic for the us and for the environment are part of the norm. The chemicals are interwoven with the clothes we wear daily. These that are meant to make us feel safe and warm might actually be harmful. It's crazy.
Lauren really went into depth about this subject. If you want to really see what it's about, check out the documentary True Cost – this was a real inspiration for Lauren and hugely educational.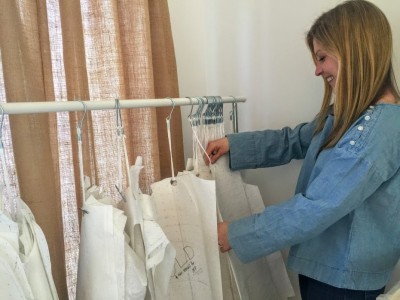 Lauren decided NOT to look away.
"We believe there is a vital connection to the people and places that make our clothes. Just like with our food, we believe that knowing where our products are made and how they are made is incredibly important." This quote is found on the home page of LaurenMorgan.com.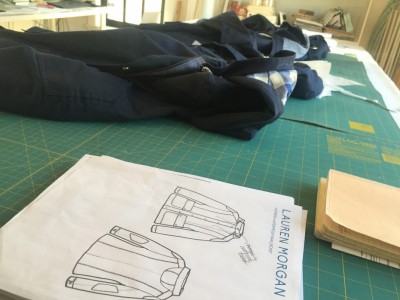 Because of this standard, Lauren has been on an incredible journey to find and create stylish New England inspired rain jackets that are made in the USA and are made with the highest standards.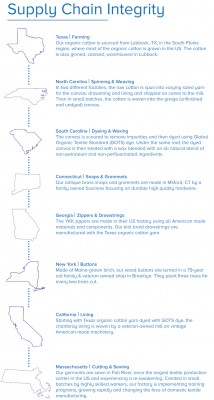 From Seed to Closet is also something Lauren uses as a tagline. For her, designing this time around meant traveling and finding farmers and manufactures, that feel as strongly as she does about using safe, organic, quality products.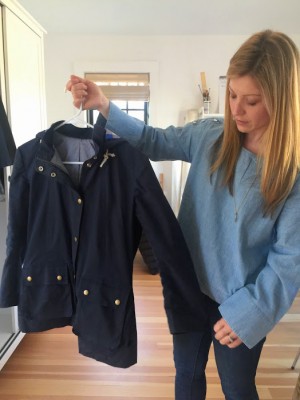 She found a very special organic cotton farmer in Lubbock, Texas for the cotton. You always think that cotton is natural, breathable, the right choice, but not all cotton is created equal. This is the cotton you want to use. The cotton that is not forced into its 5th stage, where the boll is forced by nature, something a good hard freeze is needed for. Not cotton that is forced with harsh pesticides.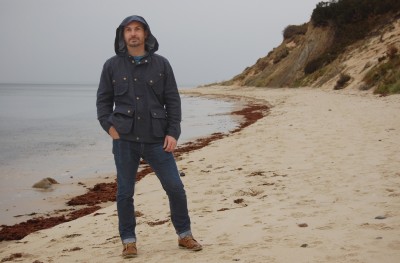 The cotton canvas is woven from the organic cotton and is milled in small batches in South Carolina. There it is dyed with Global Organic Textile Standard (GOTS) certified dye in North Carolina. The organic cotton lining, also from Texas cotton, is woven in small batches by a Veteran run business located in California.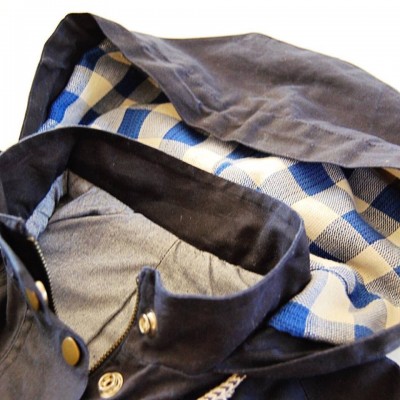 She has partnered with Nantucket Looms for the fabric hood liner for the women's line. These textiles are handwoven on Main Street, Nantucket, using only the best, natural fibers for incredible, handmade textiles. This is an amazing partnership for so many reasons, and of course Nantucket Looks will be selling Lauren Morgan!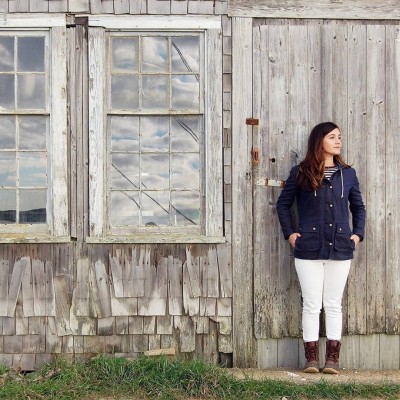 The brass finishes — zippers, snaps are American made. The cotton drawstrings are made with organic cotton. Even the wooden buttons are special. They're made from sustainable birch from Maine and are hand turned in Brooklyn!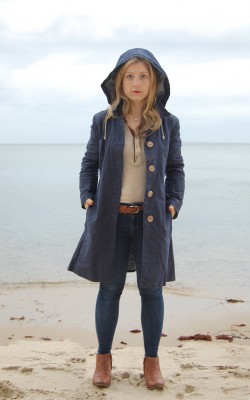 Oh and let's talk about water resistance. Lauren has worked with a company to create a plant based water repellant! Yes, no harsh chemicals, and nothing would be harmful to you or the environment. The catch? There is none. The only thing is that you will have to wax your jacket and the wax will help your heirloom piece to wear well and continue to age and patina (and become quite the conversation starter). These pieces are designed to get better, and more interesting with age.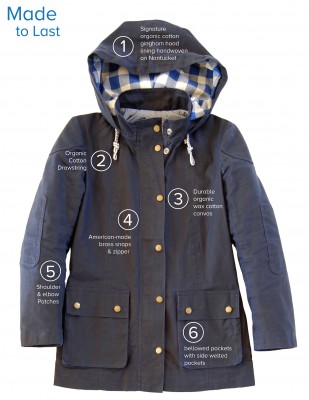 As you can imagine, Lauren went through a serious vetting process for EVERY component of her collection. It took a lot of time and a lot of research, but she says it was all worth it. With all these components from other states, can you imagine her surprise when she found a factory in Fall River, the Good Clothing Company.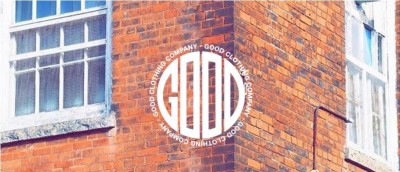 Here, founder Kathryn Hilderbrand, is dedicated to ethical, sustainable manufacturing and is helping to bring manufacturing back to the USA. She too has a wonderful story which you can find here. The business model at Good Clothing Company is in line with Lauren Morgan, and it's "right across the pond," made in America, made in Massachusetts!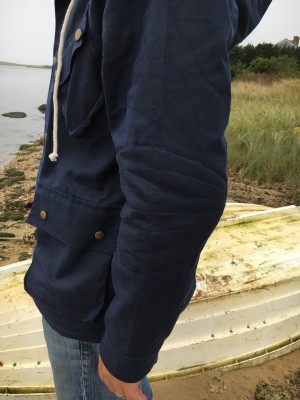 So much went into finding materials and such, usually not a designer's job, but this is a path to the revolution of New England fashion. Lauren has shown that there is way to design and manufacture clothing responsible. If one designer, on her own, can do this, why can't others?
All this talk about responsible textiles and manufacturing, and I am yet to talk about the design! As mentioned before, the style is New England inspired. Lauren drew on the colors of nature on the Island she calls home, and by the beauty of nature-inspired design, she worked on when part of the award winning Martha's Vineyard Interior Design team — the blues, the beiges, the greys and the great textures of natural fabrics.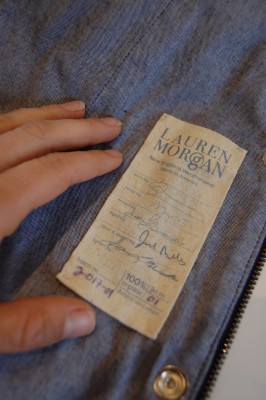 Her designs are simple, yet filled with attention to detail. From the tassels, to the snaps to the elbow patches — which are especially cool on the men's jackets — to well placed flaps, and pockets for cell phones. These are obviously well designed, well crafted pieces, and they're even more glorious because where we live, provided the inspiration for them.
There are two styles for men and women, so a total of four at this point that Lauren Morgan, home of the American made wax cotton jacket offers. Currently there is one color available, but I think Lauren will be adding Slate soon as well. Love all the New England inspired colors!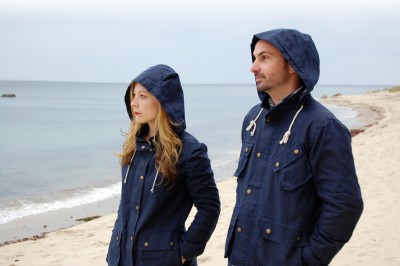 For a more casual rain jacket, Lauren offers the Downeaster. This one has a number of pockets, and a working drawstring hood. To me it says functional, but is still fashionable. You can easily go from a walk at Blackwater Pond in West Tisbury to lunch at the Atlantic in Edgartown in this jacket.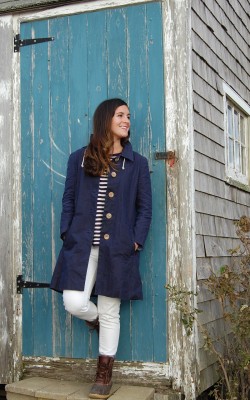 For a more sophisticated but yet casual jacket, the Noreaster is for you. The design is minimal and functional including a working hood. I love this element in the design, since often jackets like this do not have a hood, and lets face it, New England is wet. We get plenty of rain around these parts so function and fashion is important to us.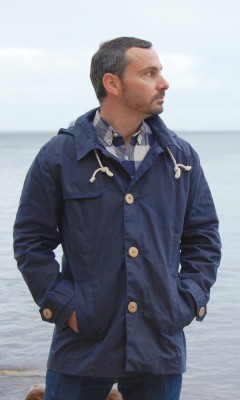 You can order your own Noreaster or Downeaster, today, simply click here. There is currently a Kickstarter Campaign that is helping to fund this endeavor, and the jackets are in production! They will be ready in May. Also, stay tuned for where you will be available to buy them on Martha's Vineyard soon.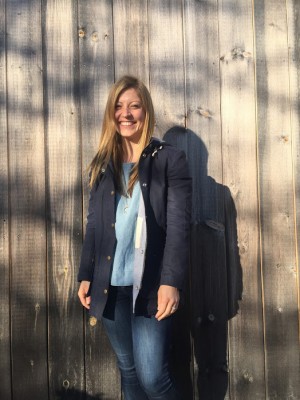 This story, the story of one designer's dream to create truly special clothes, with a conscience and a story, was a delight to write. The dreams that are made into realty on the tiny island of Martha's Vineyard are so inspirational. I hope that many people learn about Lauren Morgan's work, especially those in the fashion world, and are inspired by her dedication to doing good with fashion.
You can learn more about Lauren Morgan on Facebook. Don't forget to "Like" us on Facebook, and follow us on Twitter, Linked In, Google+, Pinterest and Youtube and Instagram.
Author's Note: Thanks Lauren and Nate for some of the pics! Also, Lauren Morgan's well received windbreaker from the summer is no longer available. In the future she hopes to find a way to create something similar with textiles more in line with her mission.
Also, Lauren left her interior design position once she realized that she could not fulfill her orders from her summer windbreaker experiment. She had done so well, realized that she could have a career in fashion.