Last week, The Cardboard Box opened its doors. Since we first learned about Ben and Erica DeForest's new spot, we have been eager for its opening.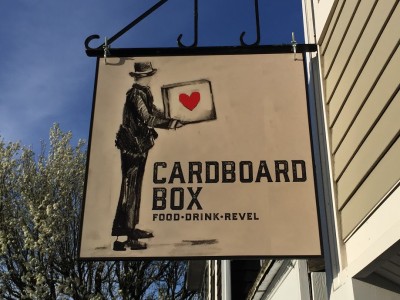 Located on Circuit Avenue in the space that was previously Down Island, The Cardboard Box is an eclectic mix of classic and modern. The large wooden bar is once again a focal point. Classic in style but updated with black and white paint.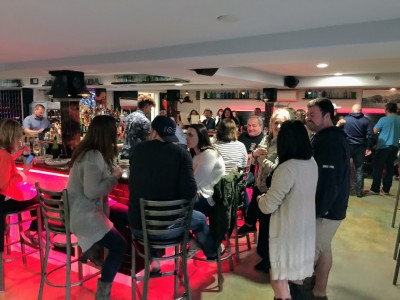 The walls are adorned with great art including a number of pieces by Island artist, Traeger Di Pietro, who also designed the sign for the restaurant. Take note of the details, when there. The collection of vintage glasses, the whimsy in some of the prints, the character vintage steam trunks and more. The space is modern and fun, and lends itself to a good time. You'll see when you go. There's a vibe.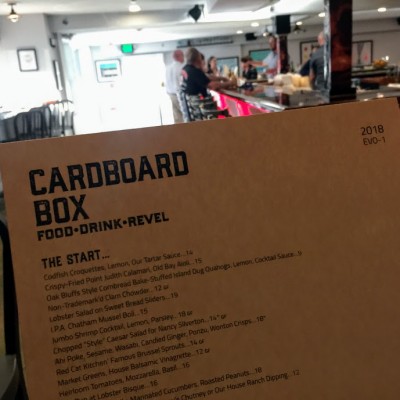 Before I continue, I should mention the name, The Cardboard Box. What seems like a peculiar name is actually quite perfect. In a world where restaurants are investing large amounts of money into concepts, Ben believes that if the food is good, people would eat out of a cardboard box. With this notion, the energy has been focused on the food. Yes, the space is pretty awesome, but it's the menu where The Cardboard Box Shines.
The menu at The Cardboard Box is quite diverse. You've got The Start (apps), Do Continue (dinner options), The Reliable Chop Board (a meatlovers dream), the Fish House and Sides.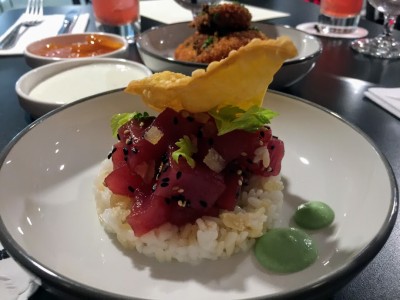 With 14 appetizers and 8 sides under $20, you have the option to really create a fun tasting experience. With this, you can totally create a meal or really begin the dining experience with a bang. From the I.P.A. Chatham Mussel Boil, to Captain Crunch Chicken, to Ahi Poke to Red Cat Kitchen' Famous Brussel Sprouts (a favorite), there are so many things to try.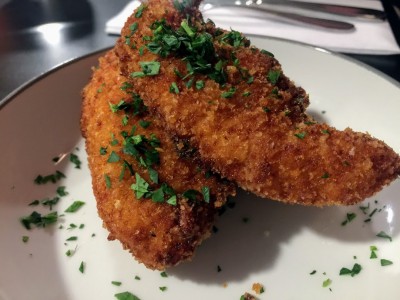 My friend Jasmine and I really like the starters. So, we went a little crazy with them, opting for the Poke, the chicken and the mussel boil. We really loved the Ahi Poke with sesame, candied ginger, ponzu, the best wonton crisps ever, and some serious wasabi. It was light and so flavorful. I actually got this again when I went later in the week for my second visit.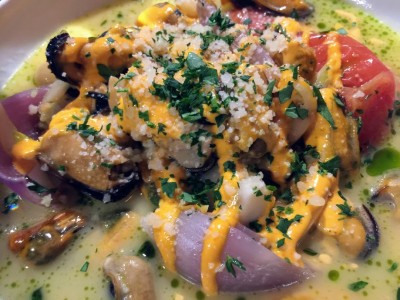 With all that good stuff to start with, we probably should not have continued, but we did. It was really hard to choose what to have for an entree. The Spit-Roasted Harissa Rubbed Natural Chicken and Sumner Veggie Skewer sounded good ($24), as did the Oak Bluffs Style Bouillabaisse ($39), but we opted for the Fish & Chips ($23) — Crispy fried Chatham Cod Fish, with housemade tartar sauce and fries. We opted to have the fries made truffle.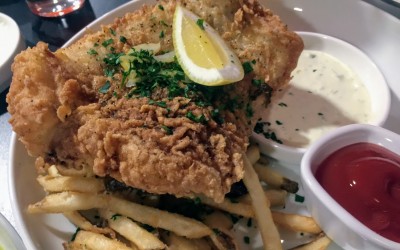 Many of the dishes are classics with a Ben DeForest twist, a modern touch or a nod to the Portuguese culture on the Island, like the linguica you find in the Oak Bluffs Style Cornbread Bake.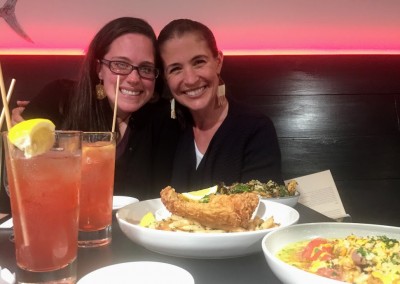 Jasmine and I are both really particular about our fish & chips, and I am happy to report that The Cardboard Box's was really good. A generous portion, the fish was fresh and flaky with a really flavorful batter. I don't like it when it's soggy and bland or tastes like the fish was previously frozen– none of which was a concern with this delicious classic New England twist.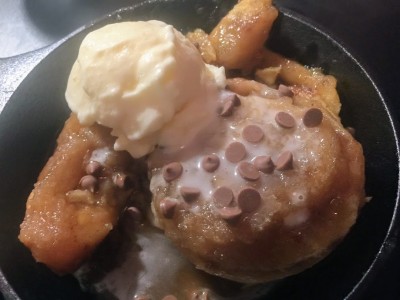 Thoroughly full at this point, we had agreed to have dessert. Earlier in the day, Erica (Tiny Baker) posted a picture on Instagram of the dessert for the evening, skillet sticky buns. All I can say is save room for dessert. Erica is amazing with her sweet creations. and with this kitchen, she is sure to delight your sweet tooth every night.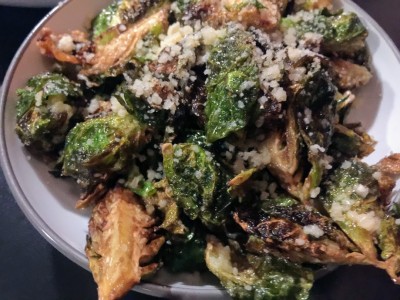 Now The Cardboard Box has a lot to offer diners, but it is the The Reliable Chop Board that is sure to draw attention. With the modern American steakhouse in mind, Ben has partnered with the legendary Bob Pachico, the Island's longest working butcher from his store Reliable Market, which is right down the street. Bob knows his meats. He is an artist in the world of butchery.
For The Cardboard Box, Bob is hand selecting the cuts and meats featured. This is something special for steak enthusiasts. From a 16 0z Prime Certified Angus New York Strip ($53). to a 32 oz Prime Angus Rib0Eye Tomahawk ($95) to the motherload, a Reliable 32 oz Prime Certified Angus Porterhouse ($100), each steak has been hand selected for its quality and prepared to your liking, and don't forget about what sides you might like. Tater Tots, Creamed Spinach, OB Style Street Corn – there are options. The Reliable Chop Board is something unique to The Cardboard Box on the Island.
When you review the cocktail menu, chances are you might have a hard time deciding what to order. So many sound delicious. Don't forget that there are also great beer, wine and mocktails available too. Sin is In was the first to be tried, made with Plantation three year rum, cinnamon, grapefruit and lime juice.
There is also the Washashore – with Citadelle Gin or Deep Eddy Vodka, cucumber, mint and lemon juice, or how about the Shake My Tree – Evan Williams Bourbon, Mathilde Peach, Iced Tea and Lemonade, a very delicious sophisticated adult version of an Arnold Palmer. This was one of my favorites.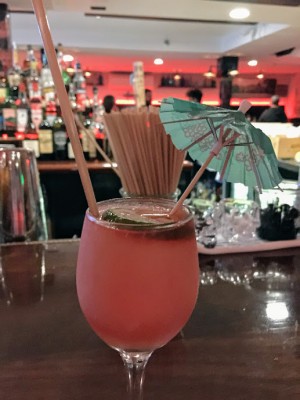 But what takes the cake are the Adult Sloshies!!! There is Frosé that is one of my top three favorite cocktails on the Island. This sloshie has Reyka Vodka, Rosé, Cappelletti and lemon in it, and it is amazing! I can only imagine how nicely this will help cool one off on a hot Summer day. I know I cannot wait to prove that this is true.
Why are the cocktails so amazing? Well, Toby Maloney is behind the genius. His list of accomplishments is a mile long, but I will say this he is an award winning James Beard Mixologist. What? It's true. Toby has created some of the most sought after and revered cocktails in New York City and Chicago, and he is here, making cocktails for us on Martha's Vineyard! Not only do his drinks feature amazing ingredients and housemade goodies, but he is really great to talk to. Watching him make drinks is like watching art. Iit's fantastic.
The Cardboard Box will also be serving brunch and a late night menu (looks good) for all you crazy kids who stay out late in addition to dinner 7 nights a week.
Congratulations Ben & Erica – a great fun, different addition to Oak Bluffs! It's nice to see you two working in the kitchen together. I look forward to visiting again soon, maybe for brunch!
Author's Note: How much do I LOVE that The Cardboard Box offers hay straws. Straws made out of hay. Bye bye plastic for a number of their drinks! Well done.
You can learn more about The Cardboard Box on Facebook and don't forget to "Like" us on Facebook, and follow us on Twitter, Linked In, Google+, Pinterest and Youtube and Instagram.